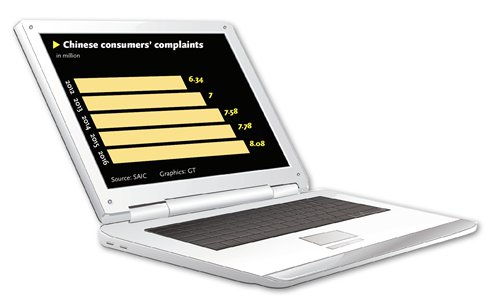 (Graphics/GT)
How to protect e-commerce consumers' rights remains a focal point in the government's efforts to combat online retail fraud, with a new regulation governing returns taking effect on Wednesday, World Consumer Rights Day.
Experts called for Internet-based governance, rather than one based on geography, to resolve some persistent problems involving online goods.
Addressing a press conference after the conclusion of the annual session of China's national legislature, Premier Li Keqiang on Wednesday urged more support for high-quality products and a blacklist for vendors selling fake goods.
The State Administration for Industry and Commerce (SAIC) said that it processed 8.08 million consumer complaints in 2016 and averted losses of 1.82 billion yuan ($263 million), according to a statement on the agency's website.
Total complaints in 2016 increased 3.9 percent year-on-year, setting a new record, while complaints filed via online channels reached 122,000, increasing 59.9 percent from a year earlier, read the statement.
Most consumer complaints involved quality issues, misleading contracts and poor after-sales services, the statement said. Daily necessities, vehicles and household appliances together accounted for nearly half of all complaints.
The SAIC on Wednesday launched an online consumer rights platform - http://www.12315.cn/ - in addition to its hotline services and an interim regulation giving shoppers the right to return online goods within seven days of purchase also took effect on the same day.
Qiu Baochang, a partner at the Beijing-based Huijia Law Firm, said that the bulk of consumer complaints were still about quality. Other areas of major concern last year included fake marketing and price manipulation, online fraud and fake consumer ratings of vendors.
High-profile complaints and media coverage of the explosion of Samsung smartphones and battery bugs in Apple phones that caused the gadget to turn off amid low temperatures highlighted the importance that consumers place on quality, noted Qiu.
"Highlights in 2017 will be online shopping and online credit, as more people shop online. The reach of the Internet means online fraud affects far more consumers than brick-and-mortar stores, so the China Consumers Association has set the tone for the year on online credibility and consumption with confidence," Qiu told the Global Times Wednesday.
Fu Liang, a Beijing-based independent expert, told the Global Times Wednesday that the nation should also consider to improve its current mode of governance, which is based on geographic locations.
"Enabled by the Internet, dishonest vendors can sell fake goods across the country, and this has proved difficult for law enforcement agencies to deal with as they have regional jurisdiction," said Fu, noting the government should improve the governance of the sector to combat fake goods.
As online sales plus modern logistics mean shipments move fast, agencies should find a speedy way to intercept fake goods, Fu said.
On March 7, in a post on Sina Weibo, Jack Ma Yun - the founder and executive chairman of Alibaba Group Holding - called on China to introduce "laws on counterfeiting as tough as those on drunk driving."
Commenting on Ma's suggestion, Qiu said the nation actually has severe punishment for the production and sale of fake goods, but the weak link is in the enforcement.
The revenue threshold for criminal charges of fraud should be lowered to 10,000 yuan from 50,000 yuan, Qiu suggested, to better deter those who make and sell fake goods.