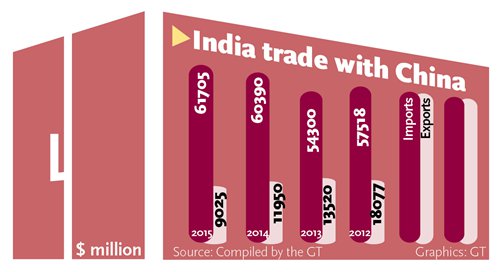 Focus should be on improving competitiveness and trade relations: expert
The Indian government has made bridging its trade deficit with China a top priority, but has made little progress as it struggles to reverse a trend of declining exports to China, which, Chinese experts say, is no small task given the competitive, rather than complimentary, nature of the bilateral trade.
In 2016, India's trade deficit with China reached $46.56 billion, a slight increase from the previous year's $45 billion, according to China's General Administration of Customs (GAC).
The huge trade gap between China and India has become one of the thorniest issues between the two countries in recent years and has triggered protests and campaigns in India and resulted in rising tensions in the bilateral trade relationship.
"There has to be evenness and balance in trade so we can move together," Shaktikanta Das, Secretary of Economic Affairs of India's Ministry of Finance, told the Global Times in an interview. He said that Indian officials are working with their Chinese counterparts in promoting Indian products.
But trade data show that India's exports to China have continued to decline, albeit at a slightly slower pace, despite their efforts.
Indian exports to China declined by 12 percent year-on-year in 2016, down from a year-on-year fall of 18 percent in the previous year, according to the GAC.
Lack of competition
Indian officials might have misplaced their efforts in trying to compete with China on a tit-for-tat basis and increasing scrutiny of Chinese imports, whereas the country should focus on improving the competitiveness of its industries and trade relations with China, said Bai Ming, a research fellow at the Chinese Academy of International Trade and Economic Cooperation.
The main reason behind the trade deficit is that Indian and Chinese products are in a competition, rather than complementing each other, and Indian products are less competitive than Chinese ones due to its backward industries, according to Bai.
"Indian industries are still relatively far behind China's. What India can make, China can make better and at a lower cost, so there is no way that Indian products can survive in the Chinese market," Bai said.
Bai noted that India's automobile and steel industries are relatively strong, but "can not compete with China" because of the technologies and scale in the two industries China has achieved. For example, in 2015-16, India exported $14.35 billion of vehicles and car parts, but only $0.46 billion went to China, according to figures from the Confederation of Indian Industry.
India should not focus on competing with China in areas where the latter holds a more competitive edge, but rather should improve its domestic industries, especially in areas where India is more competitive, according to Bai.
"India is strong in IT, especially software. And we want to export more farm products including fruit, fish and vegetables to China," said India economic secretary Das.
Focusing on these areas could help India with its trade with China, but India should view its trade deficit with China in a boarder context. "You can't just try to sell me shoes because I sold some; or you shouldn't just focus on one country to balance your trade, but other countries where you have a better competitive edge," Bai said.
In fact, Indian products pose the strongest competition for Chinese ones in the international market among countries in South Asia, according to a latest research report published by the Chinese Academy of Social Sciences on Wednesday.
India should also try to improve trade relations with China, rather than increase tensions, and take a more active role in some of China's trade-promoting initiatives such as the Belt and Road initiative, Bai said.
India was among the countries that launched the most anti-dumping investigations on Chinese products in 2016, according to the Ministry of Commerce.
"If India wants to increase exports to China or other countries, it should work with China in a constructive way," Bai said.