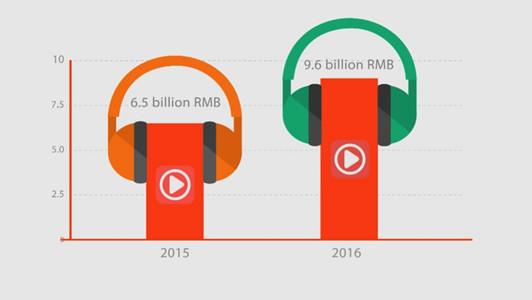 Chinese mobile music market is rapidly expanding. (Photo/CGTN)
- China's mobile music industry market reached over 6.5 billion RMB in 2015. Estimates show this likely rose to 9.6 billion RMB in 2016.
- Younger people show greater willingness to pay for music than older generations.
In 2010, a group of U.S. recording companies lost another lawsuit against Chinese Internet firms for providing free music downloads.
But now these Internet companies have probably become the staunchest opponents of piracy. What happened during the past decade?
In 2017, listening to music is perhaps one of the most common ways that people spend their time, when they're on subways, buses, running or biking.
Thanks to the Internet and smartphones, music has never been so integrated in Chinese people's lives.
But just a few years ago, China's music industry was fighting for its survival.
"If we talk about five years ago, I guess the whole industry did not see much hope in China because there was so much piracy," Andy Ng, vice-general manager of the digital music department of Tencent.
China's music industry boomed in the 1990s but quickly plummeted due to the rampant piracy of MP3 files online.
CD sales in 2013 reached 95 million U.S. dollars in China. Universal Music Group raked in 60 times that amount in the same period. And in the U.S., iTunes song downloads reaped 12 billion dollars in 2012.
Free and pirated Internet music threatened the survival of China's music industry.
However, since 2015, everything has changed, because the Chinese government issued a stern order for all Internet music providers to delete all pirated content.
"In the past two years, the Culture Ministry has closed down over 200 music websites providing pirated music. And we are one of those who survived," said Zhao Haizhou, vice president of Kugou Music, one of the largest online music streaming service providers in China.
Apart from government interference, capital markets are also important to this transformation.
Zhao admitted that his company wanted to be listed in the stock market in the future, so copyrights were a link they could not miss.
Recording companies have been happy to see this change.
Garand Wu, managing director of Universal Music China, is one of them. "After a long period of difficulties, we are finally seeing the revival of the music market. We're happy about this positive development. In the past two years, our business of paid content has been growing very fast," he said.
Another reason for the resurrection has been the rise of music streaming apps. In 2015, the market size of China's mobile music industry reached over 6.5 billion yuan (945 million U.S. dollars). Estimates show this likely rose to 9.6 billion yuan (1.4 billion U.S. dollars) in 2016.
Behind this surge is Chinese consumers' growing willingness to pay for better content.
Shef Leuang, a VIP member of several music apps like QQ music, Netease Music and Kugou Music, confessed he has got used to buying digital music albums.
The reasons are simple. First, buying and stockpiling CD albums bothers him a lot. Secondly, he can buy foreign digital albums that he cannot find in physical CD stores.
According to Ng from Tencent, younger people show greater willingness to pay for music than older generations.
In January, the new album of Chris Lee, a famous Chinese singer, sold over 6.5 million digital copies, setting a new bar for the industry.
Experts say with the surging amount of paid users, we can expect another record very soon.