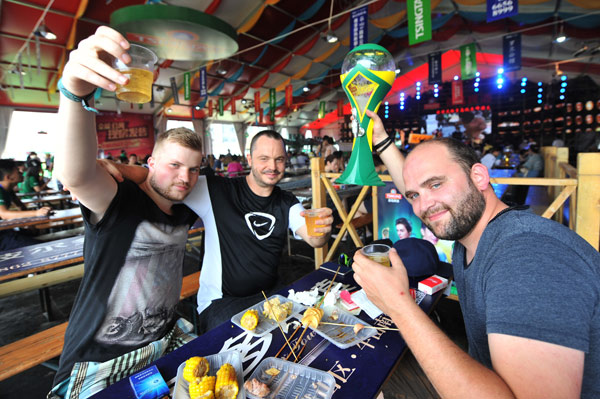 Foreign tourists down drinks during the Qingdao Beer Festival in Qingdao, Shandong province. (Photo/China Daily)
Carlsberg A/S, the Danish beer maker, is weighing up whether to purchase a 20 percent stake in China's Tsingtao Brewery Co, sources said.
The Copenhagen-based company is working with an adviser on a potential bid for the Tsingtao stake being sold by Asahi Group Holdings Ltd, said the sources.
No final decision has been made, according to the people. The shares in Tsingtao, based in a port city in eastern China's Shandong province, are worth about $1.2 billion based on Wednesday's close in Hong Kong, data compiled by Bloomberg show.
Tsingtao rose as much as 5.9 percent in Hong Kong trading on Thursday, hitting its highest level in more than a year, and was up 4 percent to HK$35.45 ($4.57) at 2:59 pm in Hong Kong. The city's benchmark Hang Seng Index gained 0.3 percent.
Tying up with Carlsberg could help Tsingtao as it grapples with competition from China Resources Beer Holdings Co's best-selling Snow Lager and Anheuser-Busch InBev NV's Budweiser label.
Carlsberg already owns about 60 percent of rival Chinese beer maker Chongqing Brewery Co, in addition to selling its own brands in the country including Tuborg, Kronenbourg 1664 Blanc and its namesake pilsner.
"Tsingtao is fighting a battle on multiple fronts and they're overwhelmed," said Jeremy Yeo, a Hong Kong-based analyst at Mizuho Securities Asia Ltd.