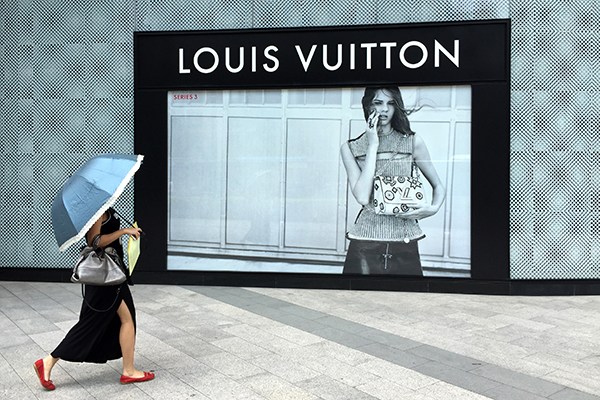 A pedestrian walks past a Louis Vuitton shop in Fuzhou, Fujian province. (Photo/China Daily)
China's wealthiest people have been busier earning big bucks, and more content to spend up big in 2016, according to the Hurun Report's latest findings released on Thursday.
The report was based on a four-month survey of about 450 millionaires on the Chinese mainland, defined as those with a personal wealth of more than 10 million yuan ($1.46 million).
Of the total, 12 percent were classified as superrich, with a personal wealth of more than 100 million yuan.
The survey found that appetite for luxury enjoyed a robust 20 percent bounce among the interviewees, returning to the 2013 levels.
The government's austerity program may have had an influence.
"There is always an inherent demand. For the past three years, (wealthy) people may not have been quite sure, because they didn't want to be too ostentatious," said Rupert Hoogewerf, founder and chairman of Hurun Report.
"But now as the picture has cleared, their interest (in luxury) has risen back to the surface," he added.
Apple, Cartier and Louis Vuitton remain the top three favorite brands among the wealthy, while Samsung for the first time drops out of the favored list. And Alipay, the digital payment tool developed by Alibaba Group Holding Ltd, has for the first time outgrown credit cards to be the most preferred way to go shopping, while cash is the least favored.
Hoogewerf said he foresees China's luxury industry will reach new peaks over the next five years.
More than 90 percent of the interviewees adopted a positive attitude toward China's economy over the next two years, saying they were confident or extremely confident about prospects.
The rich have been even harder at work, spending at least two days a week traveling for business, and are committed to their home country.