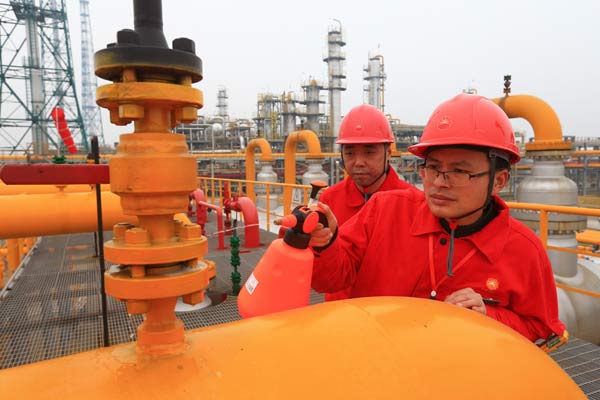 Workers from China National Petroleum Corp do cleaning work at a natural gas treatment facility in Suining, Sichuan province. (Photo by Zhong Min/For China Daily)
China's foreign oil dependency level reached 64.4 percent of total demand in 2016, 3.8 percent higher than the previous year-and was expected to rise again in 2017, a leading economics think tank in China said on Thursday.
The mainland's domestic crude production dropped to 200 million metric tons in 2016 due to high production costs of domestic crude oil at an average of $45-50 per barrel, higher than the global average, according to the CNPC Economics and Technology Research Institute.
Under such circumstances, imported oil was more cost-effective, it said.
An analyst said the world's second-biggest crude oil consumer-to make up the decline of domestic oil output-will continue the trend to import crude from abroad and the dependence on foreign oil was likely to climb further.
Li Li, an energy research director at ICIS China, said the country's foreign oil dependency level might increase to 70 percent by 2020.
"With the declining global crude oil price, the country's major oil giants have all lowered their domestic production and investment, which will lead to a further decrease of domestic crude production," said Li.
The latest official data indicates that 2016 output of China's two largest oilfields, Daqing in Heilongjiang province and Shengli in Shandong province, fell by over 5 million tons compared with 2015. Daqing posted crude oil production of 36.56 million tons and Shengli 23.9 million tons, 1.826 million and 3.2 million ton decreases compared with 2015.
That number is expected to further drop in 2017.
With no discoveries in recent years, there are concerns the output reduction of the two major oilfields will lead to a further decline of the country's domestic crude oil production, the analyst said.
However, Li said the agency forecast a slight increase of domestic crude oil production in 2017 following a rebalancing of the global crude oil price. Li said OPEC's long-sought agreement to reduce production by 1.2 million barrels a day was seen bringing equilibrium back to demand and supply.
According to the CNPC Economics and Technology Research Institute, the country's total energy consumption reached around 4.36 billion tons of coal equivalent in 2016, a year-on-year increase of 1.4 percent.
The world's biggest consumer of energy plans to cap total primary energy consumption at around 4.4 billion tons of coal equivalent in 2017, with a further push to use cleaner fuel, according to the National Energy Administration.
China's refined oil consumption reached 313 million tons last year, 1 percent decrease compared with the same period of last year and the first time the refined fuel sector saw a downward trend, it said.