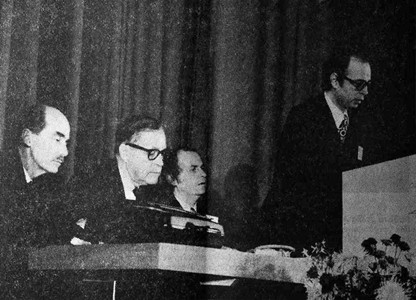 Klaus Schwab welcomes participants to the inaugural WEF (formerly known as European Management Symposium) in 1971.
The 47th Annual Meeting of the World Economic Forum will convene in the Swiss Alpine resort town of Davos, Switzerland, under the theme "Responsive and Responsible Leadership" from 17-20 January.
This year, the WEF will gather more than 3,000 participants from more than 100 countries. About 2,000 leaders are from business of all industries and government representing over 70 countries. The rest of the participants include global influencers, social entrepreneurs, young global leaders, prominent citizens, cultural leaders, academia, and the media.
President Xi Jinping will become the first Chinese head of state to address the forum, leading an entourage of business executives to Switzerland next week as the country seeks a larger role in shaping the global economic order. He will speak at the opening session on January 17.
Executives accompanying Xi to the meeting are: Alibaba Group Founder Jack Ma, Wanda Group Chairman Wang Jianlin and Baidu President Zhang Yaqin. Huawei Technologies Chairwoman Sun Yafang, and China Telecom Chairman Yang Jie.
Other attendees will include UK Prime Minister Theresa May, outgoing U.S. Vice President Joe Biden, and South African President Jacob Zuma.
Over canapés and mineral water, billionaires and political elites will discuss the global economy, climate change, technological transformation, geopolitical risk, and much more.
Election wins for Donald Trump in the United States and Philippine President Rodrigo Duterte, as well as the UK's vote to leave the EU, were widely seen as a rejection of current socio-economic models.
The WEF program includes over 400 sessions and workshops with more than half dedicated to social inclusion and human development. There are also more than 130 live streamed sessions.
Here are some quick facts you need to know about the WEF:
• The first Annual Meeting was held in 1971, with 444 participants, and lasted for two weeks. This year's meeting, the 44th, runs from January 22-25, and over 2,500 people will be taking part.
• In the late 1920s, Albert Einstein was a regular visitor to Davos, leading discussions with French, German and Swiss academics in an annual summer school, the Davoser Hochschulkurse.
• Davos is the highest city in Europe, 1,560 metres (5,100 feet) above sea level. The dry air and high altitude made it a refuge for tuberculosis sufferers in the 19C, and led to Davos developing as a sanatorium and center for medical conferences.
• CO2 levels in the city of Davos fall on average up to 30% during the Annual Meeting, thanks to controls on vehicle emissions and the use of electric transport.
• In January 2002, the Annual Meeting was held in New York as a gesture of solidarity after the 9/11 terrorist attacks. It is the only time the meeting has been held outside of Switzerland.