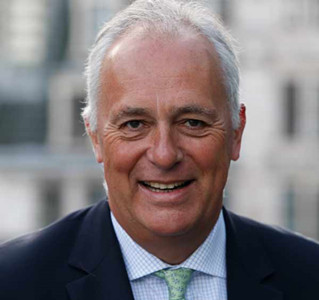 Lord Mark Malloch-Brown, former United Nations Deputy Secretary-General. (Photo provided to chinadaily.com.cn)
China is expected to champion global free trade, sustainable growth and the international rule of law at this year's World Economic Forum in Davos, says Lord Mark Malloch-Brown, former United Nations Deputy Secretary-General.
He was speaking shortly before the announcement that President Xi Jinping will this month become the first Chinese president to attend the annual forum.
Malloch-Brown, who is co-founder of the lobby group Business and Sustainable Development Commission told China Daily that Beijing's role in those important global issues was "an important demonstration of China's increasing leadership in the international space."
The Commission, established at Davos in 2016, is launching a report at this year's forum urging businesses to incorporate social responsibility and sustainability into their development plans.
Malloch-Brown says China has an opportunity to lead in many areas, including infrastructure investment, where his Commission's report identifies a potential annual deficit of $2-3 trillion over the next 15 years.
China's advocacy for infrastructure investment along the Belt and Road Initiative, and the Chinese-led Asian Infrastructure Investment Bank can play a significant leadership role in filling that gap, he says.
"Given the long term nature of infrastructure spending, it is really important to create public-private partnership models to mitigate risks for the private sector," he said.
"What's striking about the AIIB is its ability to deploy lots of capital, especially by pulling capital from the private sector. On scale and ambition, many older generation multinational development banks can learn from it."
AIIB generally invests in the initial stages of big infrastructure projects, allowing the private sector to carry less risks.
Malloch-Brown says the AIIB's capital commitment is able to attract private sector money because its agenda is closely aligned with the Chinese government's emphasis on China becoming an important trading nation.
"It offers the private sector long-term consistency and profitability," he said.
China's significant presence at Davos this year comes at a time when the new U.S. president Donald Trump will be absent, attending his inauguration.
"As the U.S. seems to step back from the global system, it makes room for others, and most prominent is China," said Malloch-Brown. "We see China is being more active in a range of global and regional issues."
He said China's commitment to cutting carbon emissions and to sending more peacekeeping soldiers to support the UN's efforts were examples.
Malloch-Brown believes China will take the opportunity at Davos to stress the importance of open global trade, international collaboration to encourage technology advancement, fulfilling climate change goals and encouraging investment in infrastructure.
In addition, he sees rapidly globalizing Chinese businesses playing a big role in generating global growth. Along with its commitment to infrastructure investment and carbon reduction targets, China can make a big contribution to the UN sustainable development goals, he said.