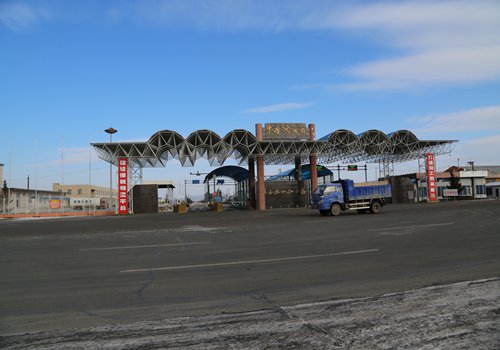 A truck passes through an area of seafood processing factories in Hunchun, a city near the border of China, Russia and North Korea, in Northeast China's Jilin Province. (Photo: Chen Qingqing/GT)
Shipping shift
For cities, a seaport means a lot in terms of development, which explains why two of China's first-tier cities - Shanghai and Tianjin - are located on the coast. Jilin and Liaoning provinces have highlighted transportation as a key to revitalizing Northeast China's struggling economy. The Global Times recently visited two transportation hubs in the region to look into the role they are playing in facilitating trade. This is the third part of a four-part story.
After a quick lunch, dozens of workers rushed back to work at noon in the fillet-cutting area at Hunchun Xingyang Seafood Co.
"They're always in a rush," said one employee from the company, who preferred not to be named. "Because we receive a large number of orders every day, they have to work late if they can't finish on time."
The factory, in Hunchun, Northeast China's Jilin Province, processes and exports fish products. The city is located near the Chinese border with both Russia and North Korea.
The company, which started doing business in June 2015, has generated nearly $50 million this year in revenue by exporting seafood products such as cod and butterfly fish to countries including South Korea and the U.S., CEO Zhao Yang said.
"It was a good decision to build a seafood processing facility here because it has a favorable location and enjoys good logistics conditions," Zhao told the Global Times on Friday.
Hunchun is about 72 kilometers away from Russia's Far East Zarubino port. The relatively short distance allows companies in the city to import seafood from Russia then process them before shipping them overseas.
The most convenient way is to send their products to the port by either rail or road to the Zarubino port, located on the west side of Vladivostok, a port city in Russia.
The port's strategic location - the shortest route between Northeast China and the Far East region in Russia - has received the attention of the Chinese and Russian governments during recent years.
The port, which was designed to transport grain, containers and bulk cargo, was expected to handle 60 million tons of goods each year, according to an announcement for the Zarubino project agreement between Russian container operator Summa Group and Jilin Province in May 2014. The agreement was signed during Russian President Vladimir Putin's official visit to China in May 2014.
Transit of goods between China's northern and southern provinces will account for 60 percent of the port's capacity.
Compared with the preferred shipping route of exporting to South Korea through the Hunchun-Zarubino route, the seafood factory is adopting another route that costs more time and money, Zhao noted.
"Because our major export market is South Korea, we have to ship our cargo from Dalian, Liaoning Province, to Busan, [South Korea], which usually takes three days, but we have to be prepared at least a week in advance for the extra time spent on the road from Hunchun to Dalian as well as on the customs clearance there," Zhao claimed.
Hunchun's closer location to Russia has seen an increasing number of seafood processing factories coming to the city in the recent years, boosting local economy, said Piao Yifeng, deputy bureau chief of Hunchun Development and Reform Bureau.
The city's 148 companies that process seafood produced 4.2 billion yuan ($603.5 million) in economic output in the first half of 2016, up 55 percent on year-on-year, according to a document the local government provided to the Global Times.
"But some logistics and transportation issues have become major hurdles for these companies," Piao told the Global Times on Thursday.
Logistics hurdles
As part of the local authorities' latest strategy, Jilin Province Northeast Asia Railway Group Co, which runs a railway line from Hunchun to Makhalino, Russia, invested 100 million yuan in 2014 to launch a shipping route from Hunchun to Busan through Zarubino port, according to the document obtained by the Global Times from the Hunchun Harbor Bureau on Thursday.
The line started operating on May 24, with the capacity to transport 206 twenty-foot equivalent units (TEUs) every week. And as of the end of November, the line had transported 1,100 TEUs.
"Although I understand the most convenient and economic way to transport our products is through the Zarubino port, which saves us 8,000 yuan to 10,000 yuan per TEU, I ship through Dalian right now because Russian customs in Zarubino has banned processed seafood products from China," Zhao said.
Road transportation is also problematic because of the weather, especially during the winter when the blizzards arrive, the factory owner noted.
"No truck will leave for Dalian, and many of our orders get delayed for days," Zhao noted.
The authorities are aware of the issue, which hurts the seafood processing industry as well as the emerging shipping route, said Zhang Liang, deputy bureau chief of the Hunchun Harbor Bureau.
Easy to start, hard to maintain
While Chinese and Russian authorities have been promoting some new shipping routes from Hunchun to Zarubino to cities in South Korea, Japan in East China, it turns out that it is easy to launch a new shipping route, but difficult to maintain one, Zhang said.
"And it's crucial to source sufficient cargo," Zhang told the Global Times on Thursday.
However, many exporters have been shipping through Dalian, which has more established routes.
Dalian is China's eighth largest port and Northeast China's largest one in terms of capacity.
"Dalian port has built a stable supply chain of export goods, including crude oil, minerals, grain, bulk ore and automobiles, from the Northeast and Inner Mongolia, thanks to its well-recognized natural condition, proximity to the West Pacific and simplified clearing procedures," said Liu Xianfeng, a vice director of Party Committee Publicity Department at State-owned Dalian Port Company (PDA).
Meanwhile, Dalian port has been building closer connections with Russia and South Korea in recent years. For instance, a direct container train service from Dalian to Moscow via the China-Russia border town Manzhouli was inaugurated, Liu told the Global Times on Friday.
"We have our own problems to solve," Piao said, noting that although Hunchun-Zarubino-Busan route is much more convenient than shipping through Dalian, it suffers from several obstacles, such as cargo weight limitations on road transportation from Hunchun to Zarubino and a lack of efficiency on the Russian side.
In addition, the lack of confidence in the sustainability of the new shipping route also undermines its development, said Zhang, the deputy bureau chief.
"It is necessary for the provincial government to subsidize new routes at the beginning, which will help them operate more routinely," Zhang claimed.
"When the Hunchun-Zarubino link becomes a more efficient and regular route, Jilin will benefit from its 'borrowed port', which will surely become a new engine of economic growth," said Zhao, the seafood exporter.