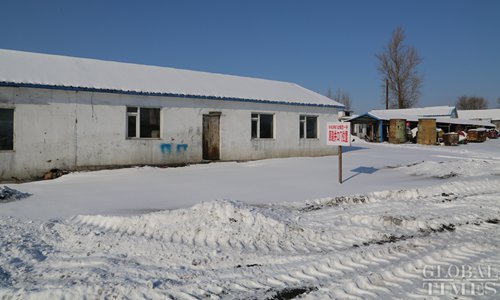 The site of a coal mine in Tonghua city owned by Jilin Province's largest coal producer Jilin Provincial Coal Industry Group Co has been shut down since August 20, 2016. 1,077 workers had to be resettled, with 96 workers moved to a poultry manufacturing company under the State-owned group in nearby Chaoyang town. (Photo: Chen Qingqing/GT)
44 coal mines closed in Liaoning Province
Northeast China has managed to cut overcapacity in steel and coal ahead of schedule as annual GDP growth in the country fell to 6.7 percent in the first three quarters of this year.
China has set goals to cut steel- and iron-making capacity by 45 million tons and coal-production capacity by 250 million tons. With these goals completed, the nation's steel and coal industries regained a modest profit margin, according to industry data.
Liaoning Province, the only province to see GDP contraction in the first three quarters, has come in ahead in its annual target of cutting 13.27 million tons of coal capacity and 6.02 million tons of steel capacity, according to a statement the provincial government sent to the Global Times on Wednesday.
As of the end of October, Liaoning has closed 44 coal mines and reduced 13.61 million tons of steel capacity, said the statement. Meanwhile, 18 steel companies have slashed 6.02 million tons of crude steel production capacity and 600,000 tons of capacity for making pig iron.
The central government has provided funds of 1.6 billion yuan ($232 million) to help Liaoning government reduce overcapacity, and almost all the funds have been used to help settle laid-off workers, the statement noted.
Benxi Steel Group Co, a steel producer in Benxi, a major industrial city in the province, has learnt to adopt the model of "production on demand" this year to "reduce cost and increase profit," Li Hongwu, deputy public relations director at Benxi Steel, told the Global Times on Wednesday.
The corporation used to produce steel to maximum capacity and stockpile the extra in its warehouse, but now it only operates after receiving orders, Li said, without disclosing exact numbers.
Ansteel Group Co, another major steelmaker in Liaoning Province, is making inroads into the high-end steel market.
At the end of 2015, the company established a laboratory to explore and research metals used for marine equipment, Zhou Jun, the vice director of PR Department at Ansteel, told the Global Times on Thursday. Currently, imports of such material represent over 70 percent of total domestic demand.
However, with the rebound in steel prices, Benxi Steel has shown signs of increasing production.
"Since October, freight train traffic carrying liquid iron ore has multiplied … At the beginning of 2016, there was a train about every 90 minutes, but now there is one every hour," a rail guard surnamed Huang told the Global Times on Wednesday as he stood on the railway platform waving his flag.
The Chinese central government has warned companies not to resume production by reviving capacity that had been cut.
Coal to chickens
Jilin Province, which reported a GDP growth of 6.9 percent for the first three quarters, has reached its target of reducing coal production capacity by 16.37 million tons, and it will slash another 5.45 million tons in 2017, an official document obtained by the Global Times on Wednesday showed.
In Tonghua, in the south of the province, a coal mine with an annual output of 210,000 tons and owned by Shansonggang Mining Industry Group was shut down in August due to continuous losses and declining resources.
"The mine had to resettle 1,077 workers," Sun Tao, the former head of the mine, told the Global Times on Wednesday.
The mine is owned by Jilin Provincial Coal Industry Group Co, the largest coal producer in the province. The company produced nearly 90 percent of the total coal in the province in 2015 but recorded a debt ratio of 79.2 percent.
To tackle the capacity glut, the group targets reducing the annual capacity of 15.03 million tons from 2016 to 2018, which accounts for 53.6 percent of its total production.
One of our major focuses this year amid the shutdown of coal mines is the resettlement of workers, said Liu Dantong, the vice director of mining business at the group.
"We encourage rechanneling workers to other sites in order to prevent massive layoffs," he told the Global Times on Wednesday.
For example, the group established a poultry farm two decades ago as a side business, Liu said.
Some 96 workers are now working at the poultry farm.
"When the coal market boomed, we paid less attention to this farm, but it offers job opportunities to some coal workers as the coal industry declines," he said.nce