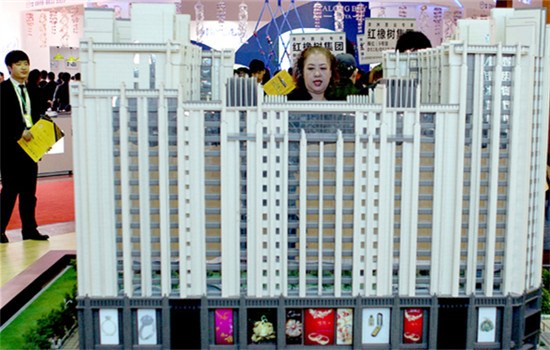 Homebuyers visit a real estate show in Beijing. (Photo/China Daily)
The gap between limited supply and high demand for developable land in core cities has pushed up the price by 50 percent, denting developers' profit margins and driving developers and investors to seek land in suburbs and lower-tier cities.
A research note from Centaline Property Ltd said the top 40 developers, by sales revenue, in China have spent a combined 1.01 trillion yuan ($1,467.74 billion) purchasing land between Jan 1 and Nov 30, 2016 -- an increase of more than 25 percent year-on-year. The average price was 6,062 yuan per square meter, a 50 percent year-on-year increase.
Five developers have each spent more than 70 billion yuan on land purchases, and 16 developers have each spent more than 20 billion yuan.
"The 50 percent year-on-year growth of land purchase costs means that the selling price will grow further, giving more pressure to developers to decrease inventories, particularly those who develop projects in cities with stricter policies for sales of residential properties," said Zhang Dawei, an analyst with Centaline Property Ltd.
About 70 percent of land parcels purchased by developers in 2016 are in cities which have strengthened controls over residential property transactions, the report showed.
Market insiders said that land prices in some cities, as a result of the short supply of developable land, are growing to a level that makes it very difficult for the developers to achieve satisfactory yields on their invested capital.
"(In China) ... margins are too thin. If you look at land sales prices, they are now multiples of current average selling prices of already existing buildings; we don't see that kind of growth going forward," said a fund manager quoted in research by PwC and the Urban Land Institute which surveyed more than 600 investors and developers about their views on the real estate markets in China and other cities in Asia.
Sally Sun, partner, assurance and analyst with PwC, said developers and investors are shifting from prestigious locations in key cities to sub-centers or suburban areas, where supplies are more ample.
"As land costs in key cities are getting higher, developers are likely to look at commercial projects instead of just residential, because the success of projects such as shopping malls, office buildings and hotels depends more on management and maintenance capacities while location plays a lesser role than in residential properties," said Sun.
Developers of residential properties are also likely to purchase more land in satellite cities, taking advantage of fast developing commuting infrastructure such as inter-city trains or subway systems, enabling more residents to have housing at a lower cost, said Kenneth Rhee, CEO of Huhan Business Advisory (Shanghai) and chief representative of the Urban Land Institute.
Many developers, knowing that land prices are high and the competition is fierce in land parcel auctions, are still making every effort to acquire land because they have to secure a land reserve pool for future development. Otherwise, they will end up with no projects in the near future, said Albert Lau, CEO of Savills China, in an interview earlier this year.