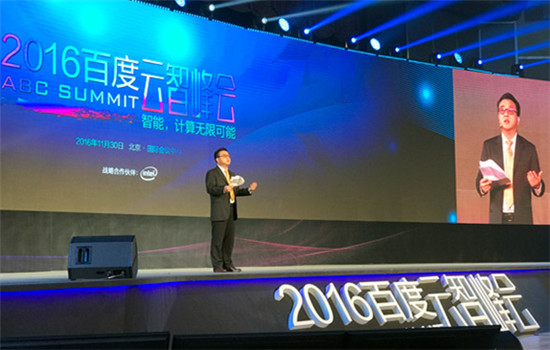 Zhang Yaqin, president of Baidu Inc, delivers a keynote speech on Nov 30, 2016 at the ABC Summit held in Beijing. (Photo by Liu Zheng/chinadaily.com.cn)
Chinese internet giant Baidu Inc launched an artificial intelligence (AI) platform for commercial users at an industry summit held in Beijing on Wednesday.
Called "Tianzhi", the platform is powered by Baidu's cloud computing technologies and contains three sub-layers, including perception, machine learning and deep learning.
The "ABC Summit", focusing on embracing AI, Big Data and cloud computing technologies, is the first of its kind held by the company.
"Cloud computing was recognized as an infrastructure investment for corporate users several years ago, but the market demand for AI based on a cloud platform has seen rapidly growth since this year," said Zhang Yaqin, president of Baidu.
Zhang said the company has said it reserves the ability to present its AI technology to the market through the cloud computing platform.
Baidu unveiled an AI system called the Baidu Brain earlier this year, featuring state-of-the-art technology for recognizing and processing speech, images and words, as well as building user profiles based on big data analysis.
The company has implemented the technologies in order to develop intelligent mapping, translation, advertising services and self-driving operating systems.
Zhang said the Baidu Brain is the core engine of Baidu's cloud and the latter provides "neurons" and "training data" to the "brain".
Currently the company has established cooperation with more than 30,000 enterprises to deploy its cloud services in the sectors of logistics, medical care, education, marketing and finance.
Liu Yang, joint general manager of Baidu's cloud business arm, said the company has unveiled more than 80 products specialized in providing cloud services to its users.
The cloud division has also collaborated with transport regulators and business partners to jointly launch a smart transportation ecological alliance, aiming to implement technology innovation in the industry.
By deploying Baidu's cloud services, transport statistics collected from ground, underground, waterways and air routes in different administrative regions will be classified, abstracted and utilized to build an intelligent transportation system.