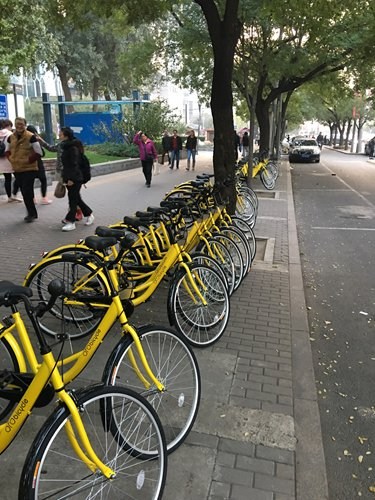 Ofo's eye-catching yellow bikes stand lined up in the Sanlitun neighborhood of Beijing, on October 25. Photo: Zhang Ye/GT
All of a sudden, bike sharing has become a thing in China. And there's no shortage of competition in the fledgling market, which became clear after about 30 investors reportedly pumped money into the business. So far, two major players have emerged in the bike sharing market - Mobike, backed by Tencent Holdings, and ofo, which counts ride sharing app operator Didi Chuxing as a major investor. The companies are in a race in win over Chinese urbanites who are interested in pursuing a low-carbon lifestyle. There is great demand for the service because it solves the "last mile problem" for commuters, analysts said, though it still faces many challenges, such as how to lower maintenance costs and implement a business model that actually turns a profit.
On the crowded streets of Beijing, the battle to provide commuters with their last mile of transportation is being fought with orange and yellow bicycles.
Five days after Tencent Holdings-backed Mobike's budget bike models, called Mobike Lite, noted for their bright orange wheels, took over the downtown Sanlitun neighborhood in Chaoyang district in Beijing on October 19, a fleet of nearly 40 yellow bicycles appeared in the same area. The eye-catching yellow bikes belonged to Mobike's rival ofo, a newcomer based in Beijing.
The two online cycle-sharing startups are racing to capitalize on China's return to a simpler form of transportation.
The last mile
"Modern life is green, low-carbon, and focused on concern about the environment. Bikes not only solve the last-mile problem, but also allow their riders to live out a particular world view," a Beijing white-collar worker, who only gave his surname Zhu, told the Global Times on Wednesday.
Beijing's municipal government has already created a bike sharing service to address the last-mile problem and ease traffic congestion in the city. By the first half of 2015, the government's bike fleet had reportedly reached 48,000.
For his part, Zhu, in his 30s, thinks the government's bike-sharing services could be a lot more convenient. The bikes must be returned to a fixed spot and unlocked with the swipe of a special card.
Mobike and ofo have made things easier. Equipped with GPS, Mobike and ofo's bikes can be located, booked and unlocked via a smartphone.
Zhu prefers Mobike's premium model, which is commonly seen on the streets of Beijing and Shanghai.
It remains unclear how well Mobike has caught on with consumers. When contacted by the Global Times on Thursday, the company refused to disclose the size of its user base.
Ofo, which found fame mainly among students, announced on its website that it had more than 2 million registered users as of September, with average daily orders of more than 500,000.
"The demand for such services will continue to grow, suggesting massive opportunities in the business," Wang Chenxi, an industry analyst with Beijing-based market consultancy Analysys International, told the Global Times on Tuesday.
Over the past two months, the bike-sharing market has attracted more than 30 investors with investments in the hundreds of millions of US dollars, according to estimates reported on a Beijing-based news portal qdaily.com.
Head-to-head
Mobike and ofo, the major players in the bike-sharing market, used to target different niches. Mobike focused on urbanites, while ofo carved out university campuses as its home turf.
In mid-August, however, things changed when Mobike CEO Wang Xiaofeng brought the company's bright orange bicycles into Peking University. The move was a direct challenge to ofo, which was founded by four of the university's students in 2014.
According to Hu Weiwei, Mobike's founder, the expansion into campus wasn't aimed at ofo. "In the beginning, Mobike did not intend to enter colleges, but there is a lot of demand in colleges. Some college students rode the Mobike cycles into the campus. And universities including Peking University want to cooperate with Mobike to create a campus free of motor vehicles," Hu was quoted by Southern Weekly in late September.
Mobike won the hearts of consumers like Zhu, but other users have their quibbles. One Peking University student opined that a Mobike is too heavy and too hard to ride.
In order to promote the service, Mobike charges students and teachers at Peking University only 0.6 yuan ($0.09) for an hour on the bike. The low rate does not make Mobike especially competitive.
"An ofo bike costs me 0.5 yuan per ride on average. Sometimes I don't even need to spend a penny. Mobike usually costs 1 yuan a time," the student told the Global Times on Thursday on the condition of anonymity.
Ofo frequently sends red envelopes filled with cash or discount coupons to students, he noted.
Typically, Mobike costs 2 yuan per hour in the city, while riding an ofo bike in the city costs 1 yuan per hour, the same price as Mobike's budget model Mobike Lite.
By September, the ofo's two-wheeled vehicles have gotten into more than 200 universities in 20 cities, according to the company's' official website.
For its part, ofo is expanding off campus, into the city streets dominated by Mobike. After gaining financial support from a consortium that includes Didi Chuxing and Xiaomi Inc, ofo disclosed a plan on October 10 to expand into the city streets, piloting its services in Beijing and Shanghai.
Further expansion in the cities is still one of Mobike's major goals for the following months, Mobike's PR representative told the Global Times on Sunday. The company has launched Mobike Lite, which costs only a few hundred yuan, to snap up market share at a faster pace.
Bumps on the road
Profitability remains one of the major challenges to China's bike-sharing industry.
"Although both [companies] have their distinct edges and have cultivated their own niche markets, they do not have a sustainable business model," Wang said.
She added that start-ups cannot make ends meet by just collecting tiny rental fees from riders, because they both need to invest a lot to enlarge and maintain their bike fleets.
The Mobike Lite and ofo bikes, which costs hundreds of yuan to produce, break easily, while Mobike's premium model, which the company claims can run for four years without repairs, is very expensive to produce, Wang said.
It costs Mobike thousands of yuan to produce its premium bicycle model, the PR representative said.
According to the Economic Daily's report on Wednesday, there are about 20,000 premium Mobikes in Beijing and Shanghai.
Users' poor bike-sharing etiquette is another challenge. Some Web users recently complained on social media that it is hard to locate or book a Mobike, because some users have taken the bikes as their own.
A woman surnamed Han was prosecuted in Minhang District People's Court in Shanghai for stealing a Mobike bicycle, the Xinmin Evening News reported on Thursday.
Mobike has introduced measures such as a credit system and a blacklist to punish illegal practices and cultivate good user habits.