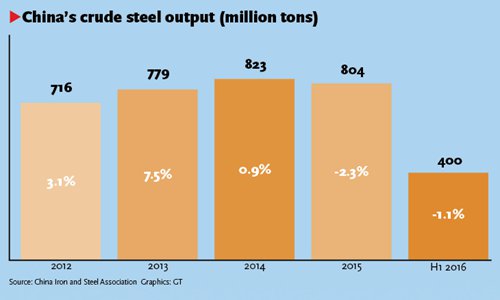 China had completed more than 80 percent of this year's capacity reduction targets for coal and steel as of September 30, a development that experts said showed the government's goals for capacity cuts this year are within reach.
But experts also warned that pressures facing these industries persist, as competition has intensified and producers may scale back production to reap the benefits of any price surge.
The Chinese government's move to cut capacity has yielded positive results, with market order returning and revenues for steel and coal producers improving, Huang Libin, an official from the Ministry of Industry and Information Technology, told a press briefing on Thursday.
There have been price surges for coal and steel in the domestic market, with gains of about 30 percent and 50 percent, respectively, compared with the beginning of 2016, according to a statement on the website of the State Council, China's cabinet, on Thursday.
China's major steel and coal producers are also seeing a profit turnaround, said the statement. Members of the China Iron and Steel Association made a profit in the first eight months of this year, compared with a net loss a year earlier. Miners' profits grew in August after contracting for the first seven months of this year.
As of the end of July, the country had only met 47 percent and 38 percent of its annual targets for capacity cuts in the steel and coal sectors, respectively, according to a statement on the website of the National Development and Reform Commission (NDRC). As of that point, these figures were still far behind the annual targets.
"Obviously, progress in slashing over-capacity has sped up in the past two months, mostly thanks to the measures rolled out by the government, like on-the-spot visits, investigations and penalties for illegal operations, and subsidies for production closures," Wang Guoqing, research director at the Beijing Lange Steel Information Research Center, told the Global Times on Thursday.
For example, following safety checks at 4,624 coal mines in September, Chinese regulators suspended the licenses of 28 and halted production at 285, according to a statement on the NDRC's website.
"The rewards for steel and coal producers' market exits have also been lucrative, with some reaching 8 million yuan ($1.19 million) or 9 million yuan," Li Chaolin, an independent coal industry analyst in Beijing, told the Global Times on Thursday.
Li noted that the capital is a boon for State-owned enterprises seeking asset restructurings and employee relocations.
Considering the current progress, it is very likely that China can meet its goal for slashing capacity in the coal and steel sectors this year, experts forecast. But they said challenges remain.
The rebound in coal and steel prices, which were driven by a decline in supply and a pickup in demand brought by infrastructure construction reviving, will "give companies that had excess debt less incentive to follow the government's plan," Li said.
After "nominal overcapacity" or "in-efficient producers" are eliminated this year, then there's the question of capacity cuts by "enterprises whose products are highly similar," Wang said.
"In the coming years, there will inevitably be increasingly fierce competition among such companies," said Wang, because they will all strive to survive and "not be stamped with the 'overcapacity' tag."
China plans to cut steel and coal capacity by about 10 percent, or by as much as 150 million tons of steel and 500 million tons of coal, in the next few years.
In 2016, the government aims to reduce steel production by 45 million tons and cut coal capacity by 250 million tons.