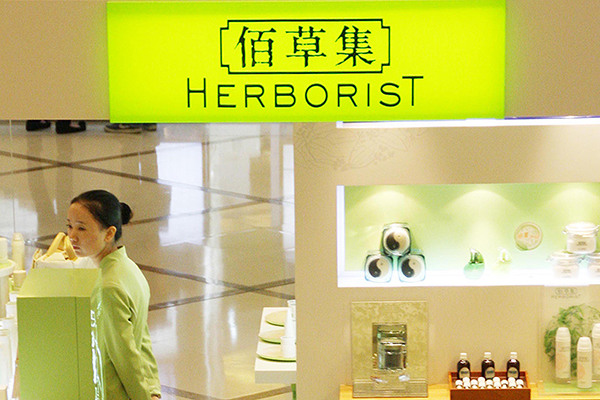 The booth of Herborist, which is affiliated with Shanghai Jahwa, at an industry expo in Beijing. (Photo provided to China Daily)
China's local cosmetics and skincare brands are in the midst of a period of upgraded consumption, urbanization and supply-side reforms. Adapting to this will require even closer collaboration between cosmetics brands and ingredient suppliers to meet consumers' demands better and quicker, said Wilfrid Gambade, president of DSM Personal Care & Aroma.
Gambade said that market demand for cosmetics and skincare products in China is driven by consumers who attach increasing importance to quality, safety and a changing lifestyle.
This requires products for anti-ageing, whitening, moisturizing, countering pollution, anti-sensitiveness and other categories that are proven to be effective at improving skincare and beauty.
The fast growth trend is reflected by double-digit compound growth of DSM's personal care and beauty business in China, with more than 80 percent of its clients in China now being domestic players.
China has overtaken Japan to become the 2nd largest market for personal care business world wide, according to the company's financial report.
China's importance was emphasized on Sept 5 when DSM opened its personal care lab in Shanghai's Zhangjiang High-tech Science Park. The company switched the lab location plan from Singapore and settled on Shanghai eventually because China's market growth drives not only business in the domestic market, but also growth of several other markets in the Asia-Pacific region, including Japan, South Korea and Australia, said Gambade.
DSM also cooperates with key opinion leaders and uses "consumer safaris", a kind of research method in which researchers visit consumers' homes to understand their specific cosmetics needs through in-depth interviews. Doing B2B business in a B2C way better meets market trend and consumer demands, said Gambade.
Researchers said that China's beauty and personal care market has been experiencing significant changes in the past few years, and the market continues to record strong current value growth, despite the slowdown of general economic growth and other unfavorable factors.
Domestic brands are gaining ground and leading to a very competitive environment.
According to China Food and Drug Administration data, China has more than 3,800 beauty and personal care cosmetics manufactures, far surpassing the number of multinational players in the country.
According to industry experts, the market is to be consolidated in the future because standard makers are raising the thresholds for the industry and consumers are attaching to more importance to quality and safety.
Data from Euromonitor, a market research services provider, shows that domestic players, after years of product development, are now gaining ground, having reached a combined value share of 4 percent in 2015 among the top 10 players, up from 3 percent in 2011.
Natural ingredients, an advantage that several domestic players have, are greatly valued by local consumers, thus leading to new growth opportunities.
For example, Yunnan Baiyao and Shanghai Jahwa are widely received among Chinese consumers for their "natural" ingredients concepts. Foreign brands in China which also have noticed this trend are using ingredients such as glacier water, resveratrol, and grape seeds to meet demands emerging from this trend, the report said.