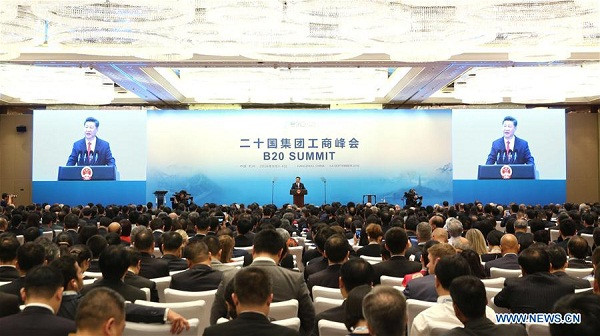 Chinese President Xi Jinping delivers a keynote speech at the Business 20 (B20) summit in Hangzhou, capital of east China's Zhejiang Province, Sept. 3, 2016. (Xinhua/Ding Lin)
China will work together with all parties to make the G20 Hangzhou summit prescribe remedies for the world economy to achieve strong, sustainable, balanced and inclusive growth, President Xi Jinping said Saturday.
All parties at the summit should work to build an innovative and open world economy to generate new drivers of growth and expand the scope of development, Xi said in a keynote speech at the opening ceremony of Business 20 summit in the eastern Chinese city of Hangzhou.
The world economy should become interconnected and inclusive to forge interactive synergy and strengthen the foundation for win-win outcomes, Xi said.
Innovation holds the key to fundamentally unleashing the growth potential, Xi said, adding that the new round of scientific and industrial revolution with Internet at its core is gathering momentum. "The combination of the virtual economy and the real economy will bring revolutionary changes to our way of work and way of life."
"Such changes will not take place overnight or be problem-free. They require all countries to work together to maximize and quicken their positive effects while minimizing the potential negative impacts," Xi said.
According to Xi, China has made "breaking a new path for growth" one of the major agenda items of the Hangzhou summit and has worked for the formulation of a G20 Blueprint on Innovative Growth.
Countries need to seize the historic opportunity presented by innovation, new scientific and technological revolution, industrial transformation and digital economy to increase medium- and long-term growth potential of the world economy.
He called on countries to innovate macroeconomic policies and effectively combine fiscal and monetary policies with structural reform policies to address lackluster global economic growth.
China has put trade and investment high on the G20 summit's agenda, saying China supports measures which open up greater market and scope for the development of individual countries and help revitalize trade and investment, the two major engines of growth.
China also pushes for interconnection of infrastructure and encourages multilateral development banks to pledge funding and intellectual support to infrastructure projects.
On inclusive growth, Xi said eradicating poverty and hunger and advancing inclusive and sustainable development are not just moral responsibilities for the international community, they unleash immeasurable effective demand as well.
He said that the world's Gini coefficient has reached around 0.7, higher than the recognized alarm level of 0.6. Meanwhile global industrial restructuring has had its impact on different industries and communities.
"We need to face this issue squarely and properly handle it in order to make economic globalization more inclusive," the president said.