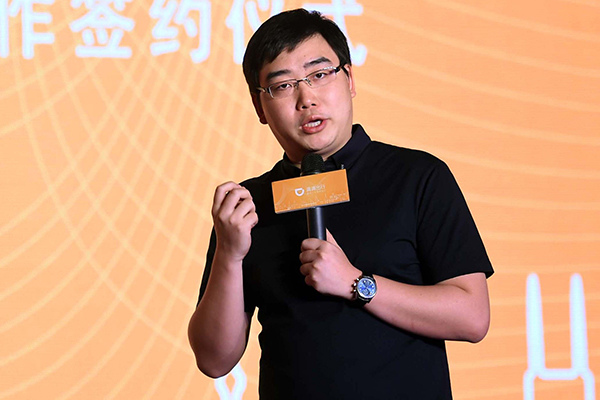 Cheng Wei, CEO of Didi Chuxing, at a news conference on Wednesday in Beijing. (Photo/China Daily)
Beijing-based Didi Chuxing announced on Wednesday that it had signed a strategic partnership agreement with nearly 50 taxi companies from more than 10 cities, including Beijing, Shanghai and Shenzhen, to explore ways to help upgrade the taxi industry.
Didi said it will explore measures, such as big data and other internet technologies, to match the right online transportation requests with the right drivers, in order to boost the earnings of taxi drivers and improve operational efficiency.
Cheng Wei, chief executive officer of Didi, said that Didi builds its business empire on taxi business. Tens of millions people use taxis across the nation.
"Apart from sharing technology breakthroughs with taxis, Didi has been vigorously facilitating the integration of taxis and other vehicles that provides transportation services via ride-hailing apps," he said.
In the future, Didi will use a 100-million-yuan ($14.97 million) fund to reward taxi drivers that get higher reviews on Didi Chuxing apps, according to Cheng.
The announcement came within a month of the Chinese government deciding to legalize car-hailing services from November, which practically levels the playing field for taxis and other app-enabled vehicles.
After car-hailing services debuted in the country in mid-2014, the lower prices soon attracted many passengers, prompting protests from taxi drivers across China.
Fights between taxi drivers and car-hailing service drivers were often reported by the media.
"With the aim to cover the whole car-hailing services, Didi need to tap further into the taxi market. If Didi did not make the move, another similar platform would take the business over," said Wang Xiaofeng, an analyst at consultancy Forrester Inc.
As a one-stop mobile transportation service provider, Didi offers a wide arrange of options to passengers, from taxis to private car, carpool to even bus and car-rental.