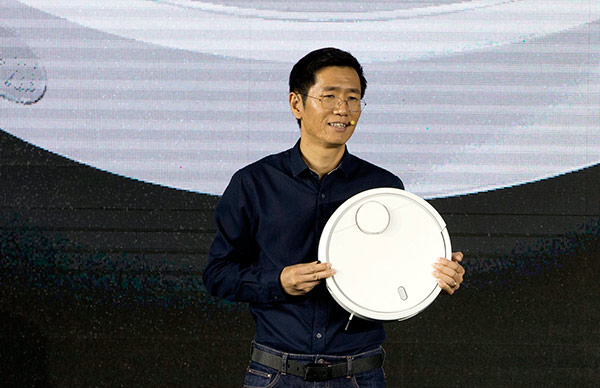 Vice-President of Xiaomi Corp Liu De at the release of the company's smart vacuum cleaner on August 31,2016 in Beijing. (Photo/China Daily)
Part of wider push to find new markets amid fierce competition in its core phone business
Xiaomi Corp unveiled a smart vacuum cleaner on Wednesday, in another move to seek new growth engines as the Chinese smartphone vendor wrestles with tumbling phone shipments and mounting competition.
Priced at 1,699 yuan ($254), the smart vacuum cleaner is the latest evidence that Xiaomi is sticking to its affordability strategy for all of its consumer electronics products, although analysts said their rising incomes were making Chinese consumers increasingly less price-conscious.
Equipped with 12 sensors and a central processing unit, the machine can automatically measure the size of rooms and map the best routes to do cleaning. It is positioned to help Xiaomi compete with foreign companies such as iRobot Corp whose similar product Roomba 880 is priced at roughly $500.
Liu De, co-founder and vice-president of Xiaomi, said the home cleaning product was designed to make doing housework interesting and cool. It is targeting white-collar workers and middle-class families.
The new product is also part of Xiaomi's broad plan to emerge as the Muji in China's tech sector. Muji is a Japanese retail company that sells a wide variety of household and consumer goods.
In recent years, Xiaomi has invested in more than 50 smart hardware manufacturers, in a bid to build an ecosystem where all of its products can be connected to the internet. So far, the company has already launched products such as drones, air purifiers and rice cookers.
James Yan, a Beijing-based analyst at Counterpoint Technology Market Research, said Xiaomi's rapid expansion into smart-home equipment can't offset the group's declining revenue in the short term.
In the second quarter of the current year Xiaomi saw smartphone shipments tumble 38 percent in China, dragging it down to the fourth spot, far behind domestic rivals Huawei Technologies Co Ltd and Oppo Electronics Corp.
"Xiaomi derives most of its revenue from smartphones. The market for drones, virtual reality devices and other smart-home equipments is still in the infant stage and cannot help Xiaomi boost its revenue too much," Yan said.
But experts said the decision to expand into the service robot market is right, given the surging demand in China which is dealing with an aging population and rising labor costs. China said in April it planned to sell more than 30 billion yuan ($4.6 billion) worth of service robots by 2020.