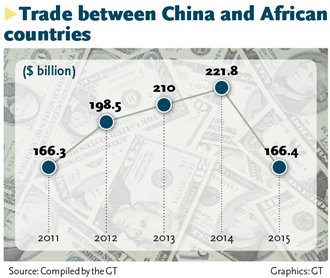 Both countries' varied focus makes investment complementary: analysts
Chinese and Japanese firms can complement each other in a unified effort toward economic development in Africa, experts said over the weekend, following Japan's decision to further their presence in the region with $30 billion in investment.
On Saturday at the Tokyo International Conference on African Development (TICAD) Prime Minister Shinzo Abe pledged that Japan would pour $30 billion in investments into Africa by 2018.
The amount includes $10 billion to be spent on local infrastructure development, as well as $9 billion going toward pledges the Abe government had made at a previous TICAD conference in 2013, The Japan Times reported on Sunday.
Ahead of Japan's move on Sunday, China and Africa co-hosted the Forum on China-Africa Cooperation (FOCAC) from July 27 to 29 in an effort to further promote bilateral relations.
China-Africa relations
On July 28, the two sides signed 61 cooperation agreements with direct investment from Chinese enterprises to Africa reaching $14.8 billion. An article posted on focac.org on August 17 showed that during the first seven months of 2016, China and African countries have signed 234 agreements involving a total of $50.7 billion in investments.
After 15 years of close trade ties, China has become Africa's largest source of imports and also main export market, according to the General Administrations of Customs.
In 2015, the continent's trade with China hit 1.11 trillion yuan ($166.4 billion), down 18.3 percent year-on-year which analysts attributed to the falling prices of global bulk commodities. Over the same period, Japan's trade with Africa came to $24 billion, according to The Japan Times report.
Japan is competing for influence against cash-rich China, and hopes quality will trump quantity, AFP reported Saturday.
Additionally, Japan's move reflects the country's diplomatic need to gain support in its quest for permanent membership on a reformed UN Security Council, He Wenping, an expert in African Studies at the Chinese Academy of Social Sciences, told the Global Times on Sunday.
Complementary investment
Japan's expansion in the continent isn't a cause for concern, He said, who thinks that companies from the two countries both have their own strong points.
"It is delightful to see more and more global powerhouses, like Japan, showing interest in Africa, which would help boost development in the region as well as improve the local business environment," He told the Global Times on Sunday.
Chinese companies have an edge in infrastructure projects, like bridge construction and setting up telecommunication stations, while Japanese firms are good at agricultural training and development and refined management, she added.
However, Zhao Hui, a Chinese businessman who has been engaged with an engineering firm in Africa since 1998, felt a bit fazed by Japan's move.
"Japan can hardly compete with China in terms of infrastructure construction in the short run, as its main efforts have been in Africa's education, medical and agriculture sectors," Zhao told the Global Times on Sunday.
But the increasing investment by Japan in local infrastructure development may signify some challenges to Chinese firms, he said.
Zhao noted that Japan's aggressive efforts in improving local people's livelihood would help them win public support for their infrastructure projects.