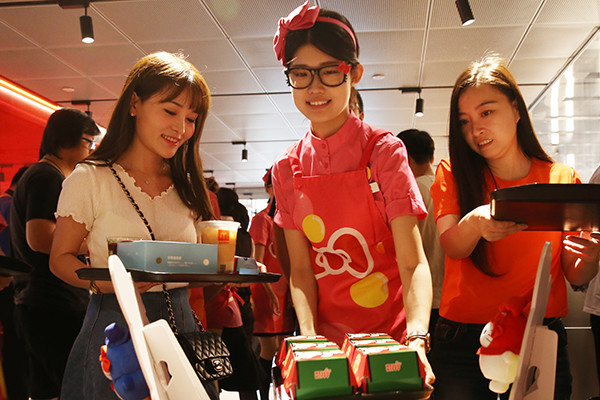 A McDonald's restaurant in downtown Beijing. (Photo/China Daily)
McDonald's fast-food restaurant chain said on Monday that meat suppliers for its restaurants in China must strictly follow China's law and regulations on the use of antibiotics in beef cattle and poultry.
ShareAction, a charity based in the United Kingdom, said last week that it had launched an online campaign asking people to email McDonald's CEO Steve Easterbrook telling him to stop the routine use of antibiotics in the company's global livestock supply chain.
The company said earlier that it would stop serving chicken raised with antibiotics related to human medicine in the United States.
But in China, the use of meat produced with antibiotics will continue.
Antibiotics are necessary for treating animal diseases, it said, adding that it will work with the government, suppliers and experts to promote progress in the industry.
The fast-food chain released a statement in February 2014 saying it would cease using human-related antibiotics in chicken production for McDonald's USA by March 2017. Last year, McDonald's USA also announced new menu sourcing initiatives, which included chicken raised free of human-related antibiotics.
Routine use of antibiotics in animals can contribute to the rise of drug-resistant pathogens - or "superbugs" - that are responsible for killing at least 23,000 people a year in the US and represent a significant threat to global public health, according to a report by the BBC.
Li Shuguang, a public health expert at Fudan University in Shanghai, said excessive use of antibiotics can cause bacteria to mutate more quickly and become resistant, and could, in turn, result in superbacteria that are resistant to virtually all drugs. This could pose a significant threat to humans, he said.
Like many other countries, China has rules restricting the use of antibiotics in livestock, both in type and quantity, he said, so the decision by McDonald's to continue using antibiotics in China is not against law, but its processes must comply with the regulations.
China has stricter standards than the United States in some areas, such as the use of clenbuterol, a drug used to increase the muscle mass of livestock.
Every year, 50 percent of the antibiotics used worldwide are used in China. And 52 percent of those are used to treat animals bred for food, according to a report on international antibiotic use led by Jim O'Neill, former chief economist at Goldman Sachs.