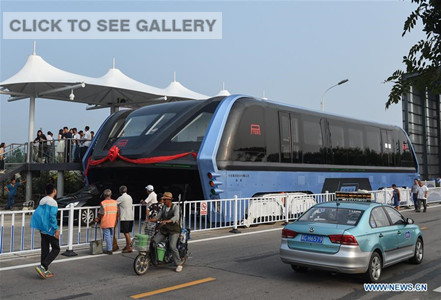 The transit elevated bus TEB-1 is on road test in Qinhuangdao, north China's Hebei Province, Aug. 2, 2016. China's home-made transit elevated bus, TEB-1, conducted a road test running Tuesday. The 22-meter-long, 7.8-meter-wide and 4.8-meter-high TEB-1 can carry up to 300 passengers. The passenger compartment of this futuristic public bus rises far above other vehicles on the road, allowing cars to pass underneath. (Xinhua/Luo Xiaoguang)
The domestically developed Transit Elevated Bus (TEB-1), the world's first of its kind, had a road test in Qinhuangdao, North China's -Hebei Province on Tuesday.
The bus is 22 meters long, 7.8 meters wide and 4.8 meters high, the Xinhua News Agency reported on Tuesday. It can hold 300 passengers and is a fully electric vehicle, said Xinhua.
The vehicle's design allows cars whose height is less than 2 meters to pass underneath, the report noted.
"The main purpose of this road test was to determine whether electricity can power these vehicles, so the TEB-1 didn't run for a long distance," Song Youzhou, the chief engineer of TEB Technology Development Co, told the Global Times on Wednesday. Song said the test result will be released in a week. TEB is the vehicle builder.
Song said more extensive operating tests are expected to begin next year in Zhoukou, a city in Central China's Henan Province.
"Safety issues and the problem of making turns, which has drawn public concern, will be tested at that time," Song said.
"The cars passing underneath the TEB-1 are like driving inside a tunnel, so lighting and visual acuity are potential safety problems," Sun Zhang, a professor at the Railway and Urban Transportation Research Institute of Tongji University, told the Global Times on Wednesday.
That's why the company chose to conduct a road test in Qinhuangdao, a city where the roads are spacious and straight.
Yet professionals have questioned the practicability of the vehicles. The TEB-1 project is actually run by an online peer-to-peer lending platform. But the platform's website shows that the company has attracted deposits worth billions of yuan, but the number of projects completed by the company only amounted to two, with investment not exceeding 200 million yuan ($15.08 million).
The platform also promised to pay interest of 10 percent to 20 percent to investors, which raises public doubts on whether the company can afford it.