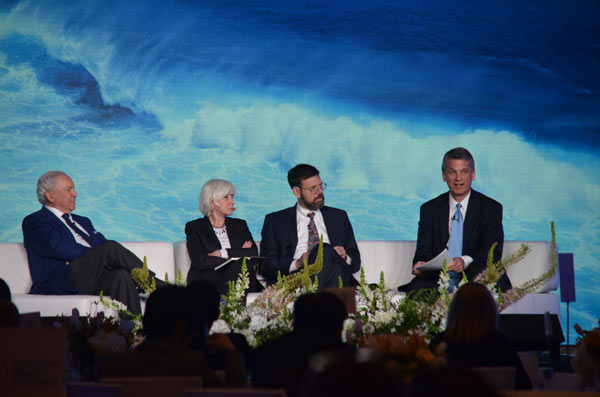 From left to right: Ambassador of Morocco to the United States Rachad Bouhlal, Laurence Tubiana, Special Representative for the 2015 Paris Climate Conference and French Ambassador for Climate Negotiations, Jonathan Pershing, US Special Envoy for Climate Change, and David Sandalow, Inaugural Fellow, Columbia University, Center on Global Energy Policy at a panel discussion on "Road from Paris and the CEM" during the Seventh Clean Energy Ministerial in San Francisco on Thursday.(Photo by LIA ZHU/CHINA DAILY)
China will implement a series of policies and measures to drive clean energy development and deployment in an effort to promote harmony between peopled and nature, the Seventh Clean Energy Ministerial (CEM7) was told on Thursday.
Hundreds of energy policy-makers, business executives and investors from around the world convened in San Francisco at the CEM7 Action Summit to discuss implementation of the initiatives of the UN Climate Change Conference in Paris last December.
The summit represented the international community's common concern about clean energydevelopment and deployment, said Chinese President Xi Jinping in a letter to the summit read by Yin Hejun, China's vice-minister of science and technology.
Going forward, China's growth philosophy will be driven by innovation, coordination, green development, openness and sharing, Xi said.
While implementing a series of policies and measures, China will gear up clean energy development with major efforts, optimize its industrial structure, set up a low-carbon energy system, promote green buildings and low-carbon transport and establish a national carbon emission trading market, he said.
As a major energy producer, consumer and investor, China has put clean energy high on its agenda to achieve substantial development, Wan Gang, Chinese minister of science and technology, told the summit via a video.
He said China is in a transition towards clean and renewable energy and China has become the world's leader in wind, hydro and solar PV power generation.