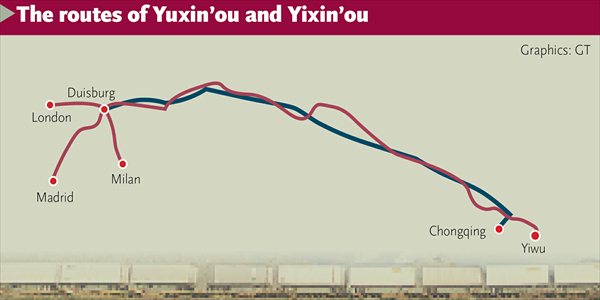 Due to cheaper costs, rail cargo links such as those running from China to Europe may erode air cargo revenues in the years to come, according to experts who attended an international multimodal transport forum in Leipzig, Germany last week. But they warned that further cooperation is needed to fully tap the strength of the rail freight market.
Experts attending an international transport summit in Leipzig, Germany last week said international rail freight can become a strong competitor to air cargo.
"Exchanges between the East and the West total $600 billion a year, and the rail market share is 1 percent, so obviously, it can grow," Jean-Pierre Loubinoux, general director of the International Union of Railways, told the Global Times Friday during the annual summit of the International Transport Forum (ITF) held from Wednesday to Friday.
"For merchandise with high added value, you can reduce inventory costs by 15 days. Time really is money in this case," he said.
Long-range rail corridors may become an alternative to certain maritime routes, according to a trade outlook released during the summit of ITF, an intergovernmental agency of the Organisation for Economic Co-operation and Development.
Ocean shipping is very cheap these days, and most of the goods involved are fairly time-insensitive, so long-distance rail cargo freight rail has so far been more of a competitor for air cargo, the ITF report said.
Sino-European rail links
After several years of trial runs, many cargo freight trains now link China and Europe on the so-called Sino-European rail lines. These trains run on a regular basis, providing an alternative to sea and air freight.
For example, the Chongqing-Xinjiang-Europe International Railway, also known as the Yuxin'ou rail line, exits China at the Alataw Pass in Northwest China's Xinjiang Uyghur Autonomous Region and passes through Kazakhstan, Russia, Belarus and Poland before reaching Duisburg, its ultimate destination in Germany.
Chongqing in Southwest China, the nation's only inland municipality, makes about 40 percent of the world's laptops, and many of those devices move to Europe through the Yuxin'ou.
Another route, the Yixin'ou rail line, connects the wholesale city of Yiwu, East China's Zhejiang Province with Madrid, the capital of Spain.
Experts said these links, which are components of China--proposed "One Belt and One Road" (B&R) initiative, have huge potential.
Formally called the Silk Road Economic Belt and the 21st Century Maritime Silk Road, the B&R initiative was proposed in 2013.
Jens Poggensee, president of freight forwarding for UPS Europe Region, said his company sees this new development as an excellent alternate to air freight.
"Given the capacity of the trains, they're not cannibalizing ocean business. Trains instead offer an alternative for low--priority air freight. Seen from the China outbound perspective, in particular, rail services are extremely attractive for contract manufacturers that have moved production bases [from coastal regions] to China's hinterlands," Poggensee told the Global Times on Thursday.
He noted that these rail links are moving to the next level.
"Small and medium-sized enterprises in China are also developing their global business. Rather than sending their products to the east coast of China for marine shipment, they like railway offerings," said Poggensee.
"In 2015, we added 10 containers to the train from the original 41. There are four departures a week [from China to Europe]. For us, it is an excellent differentiator from air freight. Now we are starting to utilize the containers on their way back to China," Poggensee remarked, noting that his company is working on expanding exports to countries and regions besides China to ease an imbalance of goods flows between China and Europe on the railway.
"What China shows is that sometimes going by train, even for a long distance, is better for some products than shipping by sea," Catherine Trautmann, European coordinator for the North Sea-Baltic Corridor, told the Global Times Thursday.
DB Schenker, a German railway freight company, carried powdered milk produced in Brittany, France by train to China, according to Trautmann.
"I see a combination of the new needs of Chinese people and the capacity to answer in Europe, as well as a combination between production and transport, this is also a very important discussion to have - in China for Europe and in Europe for China," Trautmann said, noting that the relationship between China and Europe is a key issue for the future.
Logistics experts in China who have recently been interviewed by the Global Times agreed. They said European food actually complements the Chinese diet, and as food has a limited shelf life, it's a priority target for rail freight.
Rising food demand, especially in Asia and Africa, will prompt a massive increase in food transport volumes, showed the ITF outlook.
Agricultural products and food imports in China and Africa will grow exponentially, and by 2050 China and Africa will receive almost 32 percent and 19 percent of total world food shipments respectively, measured by ton-kilometers, according to the report.
Coordination needed
To make these rail links more efficient, there's still a lot of coordination required, experts said. Contractual relationships between shippers and railway operators are subject to different national and regional systems. More should be done to facilitate international trade flows and reduce border waiting times.
"A unified system of liability that would allow certain compensation for damaged cargo, delays or non-delivery is missing [for rail]," éva Molnár, a transport director with the UN Economic Commission for Europe (UNECE), told the Global Times Thursday.
She said UNECE is working in cooperation with governments and relevant organizations to unify the system at the request of railway operators.