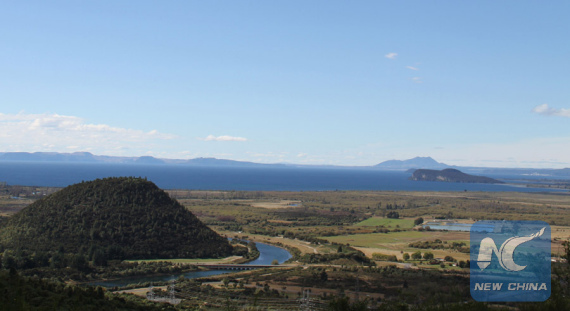 The Lake Taupo is seen in this file photo taken in the Taupo region, a tourism resort on the North Island of New Zealand, on April 5, 2010. (Photo: Xinhua/Liu Jieqiu)
New Zealand is looking to clinch another "first" with China in upgrading the bilateral free trade agreement (FTA) in a way that recognizes the growing diversity of the relationship, Trade Minister Todd McClay told Xinhua Wednesday.
McClay said last month's delegation to China - led by Prime Minister John Key - had been extremely constructive and very productive and had underlined how the relationship was more than just trade.
Leaders of the two countries had agreed on what the scope that the upgrade of the FTA signed and implemented in 2008 might cover, McClay said in an exclusive interview.
However, he said, trade still underpinned the relationship and it was important to have the ability to discuss New Zealand's pillar dairy exports, which are still subject to safeguard tariffs, and other trade aspects in the negotiations.
"Dairy safeguards come off in six years and eight years from now when there is complete liberalization, but our trade in dairy has grown significantly just as we have seen investment from China into the dairy sector in New Zealand grow significantly," said McClay.
"It's probably grown more than anyone might have predicted at the time the FTA was concluded eight years ago," he said.
"It's important to New Zealand that we have the ability to talk about dairy as part of the upgrade, but there are a number of issues both sides will want to work through and we're going to take the time during the course of this year to explore and discuss those fully before we get to a stage where I think we are confident to recommend to our leaders an upgrade should be launched."
The two countries also needed to discuss technical barriers to trade -- "non-tariff barriers which often are just around standards of mutual recognition" -- as these could cause increasing frustrations on both sides.
New Zealand could be proud of its significant achievements with China -- such as being the first country to recognize China as a market economy and the first developed nation to negotiate an FTA with China.
"I think the upgrade is an opportunity to think about what that next first may be and we should, both sides, take the time to think about the relationship and how we can take it further," said McClay.
"What do we want the relationship to be like in 10 or 15 or 20 years from now? The original negotiators of the FTA showed considerable vision. I think we should also show as much vision as far as the upgrade's concerned because this is a relationship that will be important to New Zealand for many, many years to come."
As well as rising numbers of Chinese students and tourists coming to New Zealand, business-to-business links and joint ventures were also expanding.
"We're starting to see around audio-visual production, New Zealandand Chinese companies producing things together. There's a series that's about to be done called 'Panda and Kiwi,' which is a children's cartoon about a panda and a kiwi that go and travel the world, so the relationship has more than just selling commodities," he said.
"I think all that's happened very, very quickly and I think we need to take stock of that but not for too long. The FTA upgrade is an opportunity to look more widely at the relationship and see what more can be done."
McClay spoke to Xinhua after briefing business people in the central North Island city of New Plymouth on aspects of the 12-nation Trans-Pacific Partnership (TPP), which was signed in Auckland in February.
Asked during the briefing about the possibility of China joining the TPP, McClay replied, "I wouldn't put (the TPP) ahead of China."
"China is a very, very valuable agreement to us. If China was interested (in joining the TPP), they're our friends and we would respectfully as good neighbors have a conversation with them."
McClay told Xinhua that New Zealand would also be seeking to grow the relationship with China as part of the Regional Comprehensive Economic Partnership (RCEP) trade deal being negotiated by the Association of South East Asian Nations and six other countries.
However, the China FTA remained a very important agreement for NewZealand.
"I will be putting a significant amount of effort into the ChineseFTA upgrade; I have my negotiators and officials dealing with RCEP," he said.