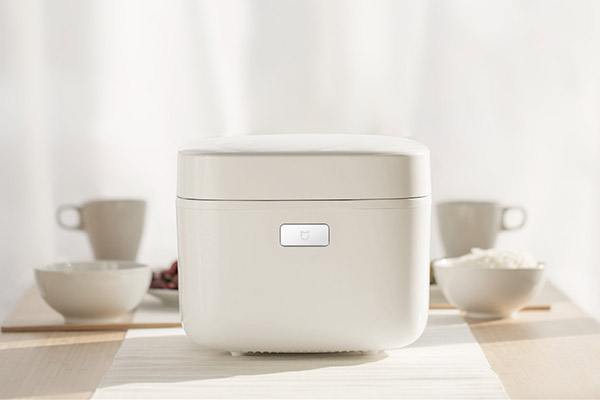 A Mijia rice cooker, made by an ecosystem company of Chinese tech company Xiaomi, is pictured in a kitchen. The smartphone-controlled induction heating pressure rice cooker is priced above most Chinese-made ones, at 999 yuan. (Photo provided to chinadaily.com.cn)
Bid to improve product quality, variety and global promotion of domestic brands
China is to implement special measures to establish a more advanced consumer goods sector within two years by increasing product variety and quality and ensuring more domestic brands achieve a global reputation.
The measures were discussed and arranged at a State Council executive meeting on Wednesday, presided over by Premier Li Keqiang.
"Developing consumer goods, improving product quality, nurturing brands and increasing product variety — these are demands from the market, especially when China's economy has reached a certain stage," Li said.
The project forms a major step in supply-side structural reform by encouraging the consumer goods sector to nurture innovative products with more variety to better satisfy consumer demand.
The sector has enjoyed advantages in China due to the low cost of labor, and has contributed greatly to the country's prosperity over the past 30 years in the transition from a planned economy.
But these advantages have shown signs of decline as global competition intensifies and industries face problems such as a lack of innovation and quality.
Under the new project, which will be carried out between 2016 and 2018, more varieties of high-end consumer goods will be provided to customers based on demand.
Enterprises will be encouraged to spend more on research and development and to enhance product design.
Nurturing more products will also be encouraged with a greater input of intelligence, expertise and "Chinese national features".
The premier said: "The government should assist enterprises to lower production costs and improve product quality through further streamlining. ... Meanwhile, the government's main task is to enforce good supervision."
The premier has again emphasized the importance of the "spirit of craftsmanship to strive for the best" for China's manufacturing sector.
Under the new project, major consumer goods producers will be encouraged to meet international standards. Such efforts will be applied to nine types of consumer goods — in particular, domestic appliances, watches, bicycles, daily necessities and sports and cultural products.
Huang Qunhui, director of the Institute of Industrial Economics at the Chinese Academy of Social Sciences, said that cross-border e-commerce is booming, forcing Chinese producers to enhance their quality and branding, an important reason for the new project.