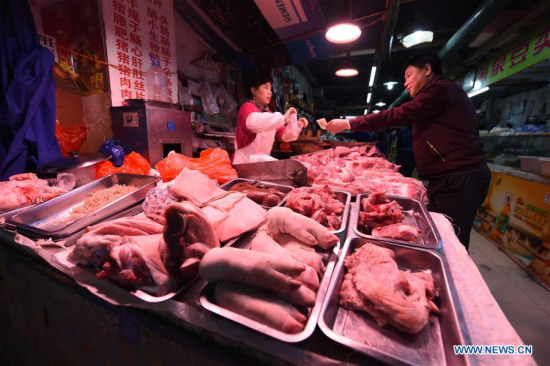 A citizen buys pork at a market in Changchun, capital of northeast China's Jilin Province, May 10, 2016. (Photo: Xinhua/Zhang Nan)
China's consumer price index (CPI), a main gauge of inflation, grew 2.3 percent year on year in April, flat from the previous two months, new data showed Tuesday.
The growth rate remained at its highest level since July 2014 for a third month, data from the National Bureau of Statistics (NBS) showed.
Food prices rose 7.4 percent year on year, which was the main reason behind the CPI increase last month. Vegetable prices surged 22.6 percent year on year, and meat prices surged 20.1 percent from a year earlier.
NBS statistician Yu Qiumei said although vegetable prices dropped 12.5 percent from March, they were still much higher than a year earlier. Meanwhile, pork prices surged due to short supply.
On a month-on-month basis, the CPI dropped 0.2 percent in April, narrowing from a drop of 0.4 percent in March, the NBS said.
Read more:
China producer prices down 3.4 pct in April
China's producer price index (PPI), which measures costs for goods at the factory gate, slid 3.4 percent year on year in April, official statistics showed on Tuesday.