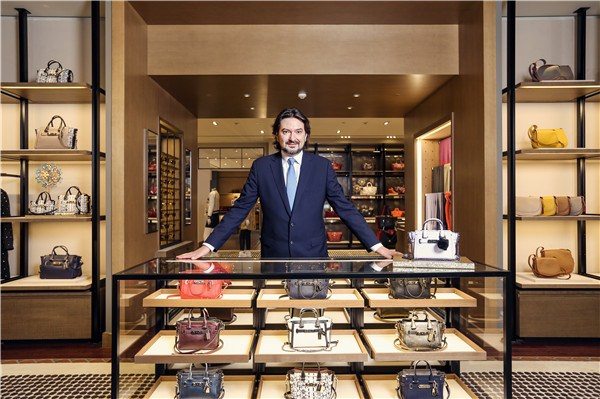 Yann Bozec, CEO of Coach Greater China, is targeting $610 million in revenue this year and he believes China's discerning luxury customers can help the company achieve this goal.CHINA DAILY
Yann Bozec, chief executive officer-Greater China, Coach, the global leather goods and accessories major, is targeting $610 million in revenue this year from the local unit.
Bozec believes China's discerning luxury customers can help the company achieve its goal.
Of all the luxury brands in China, Coach boasts the most number of followers on WeChat, the popular mobile messaging application.
Popularity on WeChat demonstrates that Coach's social media team has got its online marketing strategy right. It also indicates the American luxury goods company may have shrugged off the tough times of June 2014 when its stock plummeted by about 40 percent on the New York Stock Exchange.
Bozec said the brand's revival can be attributed to its understanding of internet-savvy young consumers' demands. Coach's sharp focus on social media has worked hand-in-hand with promotion of the brand's new image, which was launched in 2014.
The number of WeChat users hit 650 million in March. China's online population is estimated at some 668 million people, out of which 594 million regularly use their mobile devices to go online.
"When we talk about e-commerce, we don't think about it only from a sales perspective. For me, it is also a part of digital and social media strategy. Digital and social power is incredible everywhere, and even more so in China," said Bozec.
Founded in 1941 as a small workshop in Manhattan, Coach is celebrating its 75th anniversary this year. But while it is seen as a renowned luxury brand back home in North America, Bozec conceded that Coach is still a relatively young one in China that is attempting to reach its first generation of customers.
Although Coach was among the first luxury brands to sell its leather bags and accessories in China in 1998, it was not until 2009 that the company took back its business from distributors and started to introduce its flagship stores to the country.
In 2013, amid a stagnant economy and stiff competition from similarly-positioned brands like Michael Kors and Kate Spade, Coach's earnings fell significantly. To arrest its decline, the company kicked off a three-year, multi-dimensional and global brand transformation in 2014 with the aim of upgrading Coach from "an accessible luxury brand" to "a modern luxury one".
This goal is expected to be realized via three factors-products, store environment and marketing. The brand promptly enlisted the help of acclaimed designer Stuart Vevers, formerly from Spanish luxury brand Loewe, to give their products a more youthful and modern touch. Another move the company made to expand its offerings was to acquire women's footwear maker Stuart Weitzman in 2015 for $574 million.
Having been appointed to oversee Coach's regional operations in 2014, Bozec has since been spearheading the revamp efforts for its stores, ensuring that the new interiors complement the modern designs by Vevers and communicate clearly to consumers the brand's new identity.
By December 2015, more than 30 out of Coach's 161 stores on the Chinese mainland had been renovated and they now feature tuned-down lighting and dark wood furnishings that help create a more sophisticated ambience. Bozec said the brand's competitive pricing has also lured more customers to the swanky boutiques.
"We have kept our price positioning to being 40 to 60 percent of traditional European brands. Meanwhile, we have a 75-year heritage and provide incredible quality, arguably better quality than a lot of European brands," said Bozec.
Despite China's luxury industry suffering from negative growth for the second consecutive year in 2015, with the sales of leather products contracting by 5 percent, Coach's rebranding efforts appear to have paid off.
The company's latest financial report revealed that by the second quarter of the 2015 fiscal year, the Chinese mainland market continued to enjoy double-digit growth while the growth rate for its global market remained at 9 percent. Same-store sales have been positive as well, and they have helped mitigate sluggish growth in the Hong Kong and Macau markets.
Bozec is now targeting to hit revenues of $610 million for this year, an increase of 5 percent from 2015, and he is counting on Coach's relatively young clientele-most are aged between 25 and 35 years old, slightly younger than their peers in other markets-to help the company do so.
"We are very lucky to be undergoing this transformation at the same time when Chinese customers are transforming themselves to become more self-aware, discerning and eager to purchase something authentic. There couldn't be a better time for us," said Bozec.
"Chinese customers are quickly evolving from being driven by 'status' and 'peer pressure' to 'what's needed for me'. It took about 10 years before this shift took place in Japan but it has only taken about five in China."