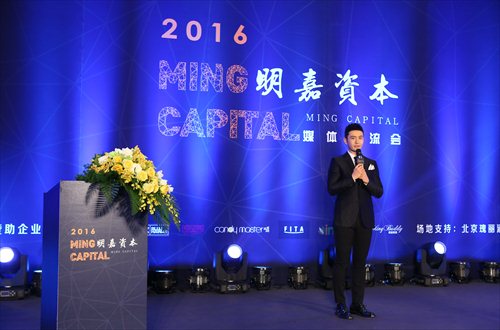 Chinese actor Huang Xiaoming attends a press conference for Ming Capital on April 27 in Beijing. The company, founded two years ago by Huang and a senior investment advisor, focuses on companies involved in consumer goods and entertainment. (Photo/Courtesy of Ming Capital)
Last week, Chinese actor Huang Xiaoming introduced the public to his venture capital (VC) investment firm, Ming Capital. Huang is one of the several actors and singers in China who have branched out into investing, specifically VC investing, as they seek to turn their fame into big returns. It has become something of a trend for actors to go into investing. They can raise the profile of projects they invest in, but it doesn't mean success is guaranteed.
Many venture capital (VC) investors from the film and television industries in China are increasingly investing in media, entertainment and other industries, as they hope to enhance the exposure of newly established companies and turn their influence into cash.
Huang Xiaoming, a Chinese actor who starred in Hollywood Adventures, a movie directed by Timothy Kendall, now has a new title as an investor.
On April 27, Huang introduced to the public the Ming Capital, his investment firm targeting industries involving consumer goods and entertainment.
In 2014, he established the company with senior investment advisor Zhang Xiaoting, who is responsible for running the firm. So far, Ming has invested in projects such as Hotslim, a private fitness platform for mummies and nail consultant InNail.
"We pay most attention to entertainment based on the culture industry, including network literature, video, broadcast and VR (virtual reality)," Zhang said at the press conference.
This firm, which teamed up with other institutions, aims to raise 500 million yuan ($77.26 million) to 800 million yuan this year, and will keep investing in 13 to 15 A-round projects annually, according to a statement sent to the Global Times on Tuesday.
"So far, most of the projects I have invested in have been successful, though the returns come slowly," Huang said in an interview with the financial news magazine Caixin in April.
Celebrity investors
Besides Huang Xiaoming, domestic stars such as Ren Quan, who South Koreans chose as their most-loved Chinese actor in 2012, Tong Dawei, the star of the movie The Flowers Of War and Hu Haiquan, a singer in the band Yuquan, have also taken an interest in VC.
In 2006, Hu started to invest in companies. Within seven years, he had established a team to manage a fund of more than 3 billion yuan for nearly 30 projects.
Ren has announced that he would quit acting to focus on investing, ifeng.com reported on March 18.
Early in 2014, Ren, Huang Xiaoming and Li Bingbing, a Chinese actress who has appeared in Hollywood movies including Transformers: Age of Extinction, established Star VC.
At the ninth China's Online Retail Annual Conference in 2014, Ren said 10 of the 12 projects they had invested in had succeeded.
In April, Star VC announced it would invest in Sense Time, a Shenzhen-based company specializing in computer vision and artificial intelligence, said a report by hexun.com in May.
Another Chinese actor, Tong Dawei, co-founded Shanghai Tongyue Asset Management Co with his wife in 2011.
Up to now, Tong's firm has invested in smart toothbrush maker Oracleen Technology Co as well as a big data platform for the film industry and broadcast applications, biz news portal hexun.com reported in April.
It has become something of a trend for actors to invest in media, entertainment and other industries, Huang Guofeng, an analyst from Beijing-based consultancy Analysys International, told the Global Times on Monday, noting that some of them cooperate with each other to meet market needs.
Peddling star power
Entertainment stars invest in projects for various reasons including looking for new opportunities, realizing their own values and earning more money through their own influence and resources, experts said.
Ren said in a speech that they invested in firms and provided related services without any personal charges, ebrun.com reported in December 2014.
"As an actor, I am extremely sensitive to the fashion industry and how consumers think. Also, being an actor provides me with platforms and resources. Most importantly, I do what most people want to do but are too lazy to start," Huang said at the press conference.
"I have found what I'm strongly interested in. This is what I want to do," Huang noted.
"Stars tend to cooperate with professional investment advisors and others, as they lack the investment knowledge and don't know much about risk prevention," Liu Dingding, a senior analyst at Beijing-based Internet consultancy Sootoo, told the Global Times on Monday.
However, "the stable social and economic environment contributed to the investment boom, as the government encourages support for entrepreneurship and innovation. And actors and actresses have to look for other opportunities as acting is not a life-long career," Liu said.
Huang from Analysys International agreed, adding that most stars in China think they can leverage their popularity to obtain more resources.
"As celebrities, they hope to turn their resources into cash," he stressed.