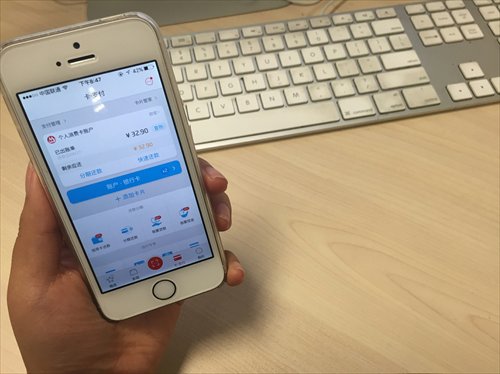 A person uses an online payment tool. (Photo: Peter Espina/GT)
Experts say clearer rules can clean up problematic platforms
Clear and comprehensive regulations might soon be introduced for the nation's fast-growing but sometimes problematic online peer-to-peer (P2P) lending industry, experts noted on Sunday, following a report of a potential crackdown in the sector by the authorities.
China's State Council, the country's cabinet, has ordered a crackdown on the Internet finance sector, with a focus on P2P lending platforms, domestic financial news magazine Caijing reported Saturday.
In a meeting on Thursday, the State Council issued relevant documents regarding the nationwide crackdown, which will be carried out by multiple government agencies and will last for a year, the Caijing report said.
The crackdown will focus on seven areas - including online payment, online lending, equity-based crowdfunding and online insurance - and the People's Bank of China, the central bank, the China Banking Regulatory Commission, the China Securities Regulatory Commission, and the China Insurance Regulatory Commission will be responsible for these areas, respectively, the Caijing article said, calling the efforts "unprecedented."
Experts noted on Sunday that such efforts could help clean up the booming but chaotic Internet finance industry.
"This is a necessary measure for the industry, as more and more problems have been emerging recently, and it will definitely clear out fraudulent platforms and ensure healthy development for the sector," Lu Zhenwang, founder of Shanghai Wanqing Commerce Consulting, told the Global Times on Sunday.
Fast-growing but chaotic industry
The Internet finance industry in China has seen exponential growth in the last few years, particularly P2P lending.
At the end of March, there were a total of 3,984 online P2P lending platforms in the country, according to data from independent online lending information provider wdzj.com.
The fast growth in the P2P lending industry has been driven partly by the huge demand for funding in the China, particularly from small businesses that have a hard time getting loans from banks, said Lu.
However, the industry also faces many problems due to a lack of regulation, Lu noted.
According to wdzj.com, there were a total of 1,557 problematic P2P lending sites as of Sunday, some of which have closed down after failing to pay back lenders.
There have also been reports of fraudulent cases involving big P2P lending firms in recent weeks.
Most recently, Easy Richness, a P2P lending firm based in East China's Jiangsu Province, said last week that it was unable to pay back investors because its bank accounts had been frozen by authorities during an investigation into the company for allegedly taking deposits illegally, the National Business Daily newspaper reported on Friday.
Earlier this month, police raided Shanghai-based Zhongjin Capital Management, which had drawn 34 billion yuan ($5.25 billion) in investment as of February 10, for allegedly accepting public deposits and fraud, China Securities Journal newspaper reported on Friday, with multiple employees being arrested, including the owner.
"This is an industry that, without proper regulation, could create a lot of risks," said Dong Dengxin, director of the Financial Securities Institute at Wuhan University of Science and Technology.
If people are drawn into fake investment programs that pose as P2P lending businesses, it could result in investors losing their money while also raising fundraising costs for borrowers, Dong told the Global Times. "With the amount of money and people involved, it's very dangerous if the sector is not properly regulated."
Amid the crackdown on the sector, a clear and comprehensive set of regulations should be launched, Lu noted, adding that the central government might issue formal regulations in the second half of the year.