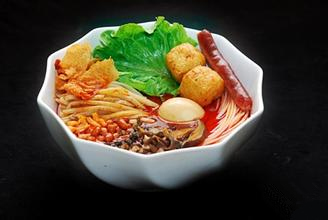 Liuzhou's signature street food--river snail rice noodles, or "Luosifen"
Liuzhou, a traditionally industrial city best known for its steel and automobile manufacturing, has been promoting its signature street food to more dining tables at home and abroad.
Each day, workers from Luobawang Food Company of Guangxi Zhuang Autonomous Region need to print 2,000 order forms and distribute more than 20,000 packages of instant river snail rice noodles to other regions of the country.
Combining traditional food materials of the Han people with Miao and Dong ethnic groups, river snail rice noodles, or "Luosifen" in Chinese, is a dish of rice noodles boiled with pickled bamboo shoots, dried turnip, fresh vegetables and peanuts in spiced river snail soup.
"We never expected that this local specialty commonly sold at roadside stands at the evening markets could become a national hit," said general manager Yao Hanlin, who pointed out that the number of orders has continued soaring since the company started operation in February 2015.
In order to meet market demand, Yao built a new plant with an area of more than 7,000 square meters at the end of last year and imported equipment to ensure that the company's daily capacity can reach 40,000 packages.
Yao has benefited from Liuzhou's economic transformation as traditional industries like steel, plagued by excess capacity and decreasing demand, are losing steam. Support for emerging sectors is a priority on the government's agenda.
Statistics from Liuzhou's government work report showed that its GDP growth was 8 percent in 2015, lower than the yearly growth of 9.8 percent on average between 2011 and 2015 owing to a sluggish second industry.
Its modern tertiary sectors, led by the service sector and tourism, have started to make bigger contributions to the economy, accounting for around 36 percent of the city's GDP last year, compared with 28 percent in 2010.
River snail rice noodles undoubtedly give the city a new way out. The specialty, whose creation was listed as part of Guangxi's intangible cultural heritage in 2008, has become one of the most sought-after dishes after the hit documentary A Bite of China mentioned it in 2012.
But its development can be attributed to a government project six years ago, which encouraged more river snail rice noodle restaurants to be opened in bigger cities outside Guangxi.
Cheng Fangxiao, director with Liuzhou Municipal Commission of Commerce, said around 5,000 river snail rice noodle restaurants can be found in Beijing, Shanghai and Guangzhou, and even in the United States and Canada.
"The online market also expanded at the end of 2014 when local plants improved food production and packing techniques to develop instant versions of the rice noodles with a shelf life ranging from 30 days to 180 days," said Ni Zhaoyang, president of river snail rice noodle association in Liuzhou.
The number of instant river snail rice noodle manufacturers has increased from one in early 2015 to more than 50 now. There are more than 1,500 online stores selling the specialty, and it ranks number one in terms of rice noodle sales on e-commerce Alibaba's shopping sites.
Statistics also showed that the online revenue of river snail rice noodle last year surpassed 500 million yuan (around 77 million U.S. dollars) with daily sale of more than 100,000 packages.
"The river snail rice noodle has developed into a pillar industry in Liuzhou," said Cheng Fangxiao, who added that the processing plants and restaurants related to it have offered jobs for around 60,000 people.
To further boost the industry, Liuzhou government established a special industrial park for it. Seven plants have moved in. It is expected to produce 100,000 packages of such noodles on a daily basis in the later half of this year, with an output value reaching 1.5 billion yuan three years later.
The city also mapped out food safety standards involving cooking materials and processing procedures on this specialty, which will take effect in May.
Yao Hanlin's company has already sold instant river snail rice noodle to foreign countries, such as the United States, Australia and Canada with the help of distributors.
"We will expand businesses to more countries and regions, helping this traditional Chinese food to appear on dining tables of more people," said Yao.