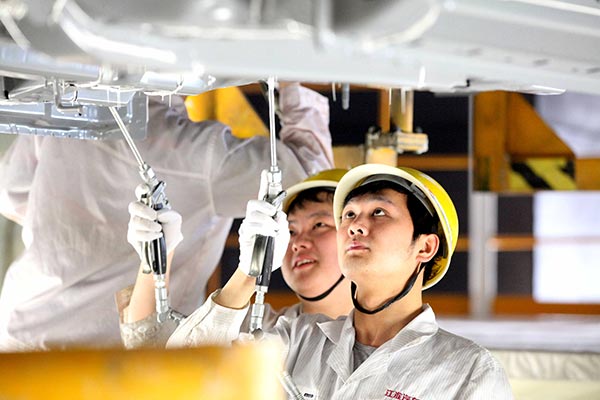 Workers at the production line of Anhui Jianghuai Automobile Co Ltd in Hefei, capital of Anhui province. (Photo provided to chinadaily.com.cn)
The Chinese government's target of maintaining a "sustainable" average annual growth rate of no less than 6.5 percent is achievable in the next five years as the country implements structural reform, said Angel Gurria, chief of the Organisation for Economic Cooperation and Development.
"This growth rate, in my opinion, is much better than the two-digit number, which can easily cause bubbles," Gurria told China Daily on Thursday at the OECD's Paris headquarters before his organization's internal discussion on its China outlook.
Gurria chaired the discussion to solicit opinions from his team and advisers to hammer out talking points that he will deliver over the weekend at the China Development Forum in Beijing.
Before bouncing back, China's economy will drop to 6.5 percent growth this year, from last year's 6.9 percent, he said.
But he suggested that China should not pay too much attention to short-term downturns, which the market easily reacts to, but concentrate on whether the economy is on track or not.
"We maintain this forecast mainly because of the world economic situation and China's ongoing gear-changing process of structural reform," said Gurria.
In its November economic outlook report, his organization forecast that the world economy would grow at 2.8 percent this year and 3.3 percent in 2017.
But due to slowing growth in some emerging and advanced economies and low prices that have hurt commodity exporters, the OECD last month revised the forecast down to 2.5 percent and 3.1 percent, respectively.
But the OECD has not revised China's forecasts in its February report. "We did not revise down China's forecasts this time, though globally the downward pressures are gathering," said Gurria.
At the same time, Gurria said, the implementing of China's economic structural reform needs time to take effect before the economy bounces back.
He also said China's social policies in boosting inclusiveness by relaxing its family planning policy and household registration system and further efforts to lift people out of poverty are useful tools for speeding up economic growth.