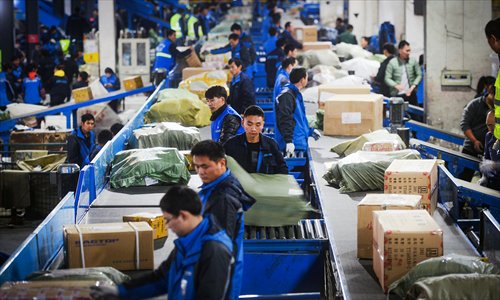 Employees from ZTO Express's Shanghai center work overtime to sort packages early Wednesday morning. The number of packages received by ZTO Express increased threefold on Wednesday due to the Singles' Day online shopping spree. (Photo: Yang Hui/GT)
Jack Ma aims at global shopping festival
Chinese consumers on Wednesday spent billions of dollars in the world's biggest online shopping spree, an event also involving an increasing number of overseas companies eager to find a way to deliver their goods to the Chinese middle class.
On this year's Singles' Day, Alibaba, the first to capitalize on the holiday, racked up 91.22 billion yuan ($14.3 billion), succeeding despite fierce competition. The amount is much higher than the analysts' estimate of $12 billion, CNBC reported on Tuesday.
Launched by e-commerce giant Alibaba in 2009, the nationwide shopping spree, also known as the Singles' Day shopping festival or Double 11, falls annually on November 11, a holiday originally created by Chinese people to celebrate bachelorhood.
Analysts attributed Alibaba's sales surge in part to the company's aggressive global strategy, which the company hatched last year.
In late October, Alibaba's global division Tmall Global launched discounted pre-sale activities with top overseas retailers, including U.S.-based Costco, Japan's Laox and Germany's Metro. Imported foodstuffs from 13 countries, such as the U.S., the UK and South Korea, were sold out on Tmall Global ahead of the Singles' Day shopping festival.
Data from the Tmall on Wednesday showed that products from the US, Japan and South Korea were the most popular among the Chinese customers, with residents of Russia, Hong Kong and the US the top three buyers.
Alibaba's smaller competitor, JD.com, which did not reveal its global sales, also promoted its global shopping service, focusing primarily on maternal and child products and consumer electronics.
The company disclosed in a statement e-mailed to the Global Times on Wednesday that its online shopping marketplace handled more than 10 million orders in the first 10 hours, up 180 percent from last year.
Global surge
The introduction of overseas products can make online shopping sites more attractive to China's growing middle class, who have an insatiable appetite for quality overseas products, Liu Dingding, an industry analyst at Beijing-based market consultancy Sootoo, told the Global Times Wednesday.
The BBC reported on Tuesday that demand from China for baby milk powder products produced by Bellamy's Australia, Australia's only certified organic infant formula maker, has led to a domestic supply shortage, angering local customers.
Alibaba said it not only wants to bring overseas goods to China but to also try to attract global consumers. After a year's efforts, it seems that the company has made some progress.
According to a statement e-mailed by Yandex, the largest online payment service provider in Russia, to the Global Times, the number of transactions made by Russians through its payment tool on Chinese e-commerce sites on Singles' Day last year was 12 times higher than an average day.
The company said the amount will rise this year on Singles' Day, adding that the number of purchases could be 20 times higher than last year.
In the first hour, consumers from 220 countries and regions had placed orders through Alibaba's online marketplaces compared to last year total of 217.
Despite those achievements, Alibaba is still far from its goal of forging a global Singles' Day shopping festival, said Liu.
"Alibaba and its domestic rivals face strong competition from overseas markets, where consumers still prefer brick-and-mortar purchases, and the cross-border logistics network needs to be further improved," he said.
Spending stimulus
Jack Ma Yun, Alibaba chairman, said on Wednesday that "the festival is just the beginning, and the event will last at least 100 years."
"China's middle class population has reached 300 million, and that number will rise to 500 million in 10 to 15 years," he said, adding that China's rising purchasing power will not only drive China's economy but also the global economy, according to The New York Times.
He even commemorated this year's shopping spree with a television spectacular at Beijing's Water Cube Olympic swimming stadium Tuesday night, where James Bond actor Daniel Craig and Hollywood star Kevin Spacey, posing as US President Frank Underwood from the Netflix series House of Cards, were invited to help promote the event.
"The creation of Singles' Day can spur consumption from China's middle class, which is consistent with the central government's efforts to shift its economy from investment- to consumption-based," Guo Zhaofen, chief economic analyst at China International Electronic Commerce Center, told the Global Times on Wednesday.