With the Chinese realty sector passing the "golden 10 years" and entering the "silver 10 years", more Chinese companies have started to tap the United Kingdom property industry. [Special coverage]
The investments take on different forms, as some acquire landmark buildings and others develop buildings for residential or commercial purposes.
Let us take a look at these companies and the investments they have announced.
China Construction Bank
In June 2014, the bank paid 110 million pounds to acquire 111 Old Broad Street, an office building in the City of London.
Ping An Insurance (Group) Co of China Ltd
Chinese insurer Ping An Insurance (Group) Co of China Ltd bought the Lloyds of London building for 260 million pounds ($387 million) from a German fund managed by Commerz Real in July 2013.
China Life Insurance Co
China Life Insurance Co, the country's largest insurer, together with Qatar Holding bought 10 Upper Bank Street, a building in Canary Wharf, for 795 million pounds.
China Life has a 70 percent stake in the building.
HNA Group
HNA Group, the owner of Hainan Airlines, announced on August 31, 2015, that it had acquired 30 South Colonnade, a landmark office building in Canary Wharf, London.
The company did not disclose the amount, but industry sources said the building's former owner had asked for 215 million pounds ($331 million), when it was put up for sale in May.
The 10-story building, spread over 305,600 square feet (28,390 square meters), is the European headquarters of global newswire Thomson Reuters.
China Vanke Co Ltd
According to Estates Gazette, a weekly magazine on commercial property sector in the UK, Vanke has acquired a 20 percent stake in the 750-million-pound ($1.16 billion) The Stage development project in Shoreditch, an area that is extremely popular with several London-based Web technology companies.
The Stage project, in the north of London, comprises a 40-story tower with 385 apartments, and was home to the Curtain Theatre back in the 16th century, which was the first stage that performed William Shakespeare's Romeo and Juliet and Henry V.
Greenland Holding Group
The developer announced early last year that it will invest 1.2 billion pounds in two projects in London, including a residential building on the historic Ram Brewery site and a high-end residential project in Canary Wharf.
ABP (China) Holdings Group
Boris Johnson, mayor of London, announced on May 29 2013, that ABP London would lead the development of the 35-acre Royal Albert Dock site, to create the capital's next business district after the City and the Canary Wharf.
The developer later signed an agreement with an Indian company Strawberry Star to cooperate in the development of this 1.7 billion pounds ($2.7 billion) project in east London.
Dalian Wanda Group
The company has made public two real estate development plans in the UK.
Wanda said in June 2013 that the company would develop a five-star hotel and two 200-meter-tall residential apartment buildings in London. The investment value was expected to be 700 million pounds.
Wang Jianlin, chairman of Dalian Wanda Group, and UK Prime Minister David Cameron jointly announced that Wanda would invest two to three billion pounds in Britain's regeneration project, after their meetings at the 2014 World Economic Forum in Davos, Switzerland.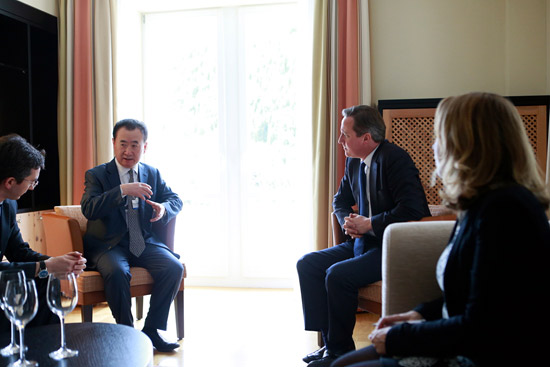 Wang Jianlin, chairman of Dalian Wanda Group, talks to UK Prime Minister David Cameron on Jan 24, 2014 in Davos, Switzerland. (Photo / Provided to chinadaily.com.cn)