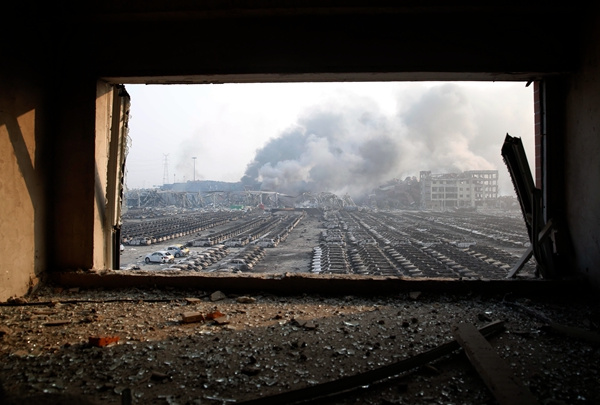 New cars are heavily damaged at a port next to the warehouse that exploded. (Dan Haihan/China Daily)
The explosions at Tianjin Port may sink its ambition to become the world's third-busiest port by handling capacity this year, insiders said on Monday. [Special coverage]
They said a number of companies are likely to use other northern ports as alternatives to Tianjin which, according to chineseport.cn, was the world's fourth-biggest port last year.
Chen Yingming, executive vice-president of the China Port and Harbors Association in Shanghai, said that although operations at Tianjin Port have returned to normal following last week's warehouse blasts, its handling capacity will be reassigned to other major ports.
These include Dalian and Huludao in Liaoning province, and Qingdao and Rizhao in Shandong.
"The biggest concern for shipping and manufacturing enterprises is that support facilities at Tianjin Port were damaged in the accident," Chen said.
"It has put extra pressure on the local government and Tianjin Port Co Ltd to build the port as the largest shipping center in North China over the next four years."
Tianjin Port had an annual capacity of more than 540 million metric tons of goods from mining commodities to auto-mobiles last year, ranking it the fourth-busiest port globally after Ningbo-Zhoushan, Shanghai and Singapore.
In 2011, the port set a target for an annual capacity of more than 560 million metric tons of goods for 2015. It also began to develop shipping, consultancy and finance services to compete with other international shipping hubs such as Hong Kong and Singapore.
Scan Global Logistics AS, a supply chain management solution provider in Copenhagen, said it is still too early to predict when shipping operations at Tianjin will recover, since many key facilities have been damaged.
"Some shipping lines will accept bookings again from August 24. However, we recommend our customers to consider using Qingdao and Dalian as alternative ports until further notice," the company said.
As a backup solution, the company has offered a barge service from Qinhuangdao, an inland port close to Tianjin, to Dalian.
Dong Liwan, a shipping industry professor at Shanghai Maritime University, said that for port business, solid infrastructure and logistics services can cut distribution costs and increase transportation reliability, which will benefit both shipping companies and exporters.
"Under the current global trade situation, tonnage overcapacity at all shipping lines has made it difficult for shipping companies to pursue sustainable economic development. To avoid risks, they will naturally choose other ports to berth their ships," Dong said.
More than 110 ships, including bulk carriers, container vessels and oil tankers, were anchored outside Tianjin Port due to safety concerns as of Monday.
The Tianjin Maritime Safety Administration allowed vessels except for oil and chemical tankers to enter its northern channel since Friday last week.