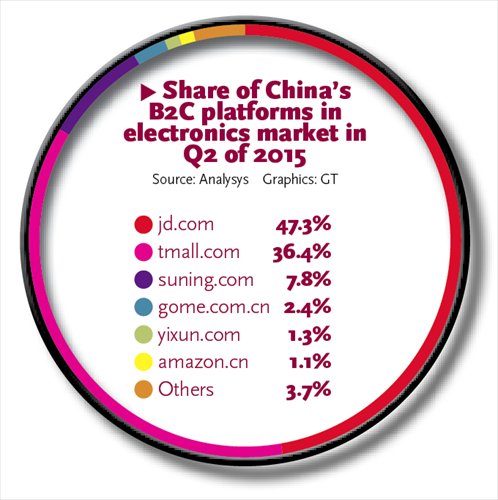 Alliance aims to take on JD.com Inc; will also help fund retailer's 020 drive
E-commerce giant Alibaba Group Holding on Monday said it would invest about 28.3 billion yuan ($4.56 billion) in Suning Commerce Group, a leading domestic brick-and-mortar electronics chain retailer.
According to Alibaba, the transaction will improve its performance in the home appliance segment of e-commerce.
Upon completion of the transaction, Alibaba will become the second-largest shareholder of Suning with a stake of 19.99 percent, according to a joint press release that was sent to the Global Times on Monday.
For its part, Suning will spend up to 14 billion yuan to acquire 27.8 million shares of NYSE-listed Alibaba at $81.51 each. It also plans to open a sales channel on Alibaba's business-to-customer (B2C) marketplace tmall.com.
Alibaba said the two companies will pursue strategic cooperation in the sale and delivery of home appliances.
According to the press release, Suning operates 1,600 physical stores, more than 3,000 after-sales service centers and 49 logistics centers around the country.
Analysts said that the partnership aims to make inroads into a business where JD.com Inc has a commanding presence - online sales of consumer electronics in China.
"Alibaba's B2C platform tmall.com is not that popular with Chinese home appliance customers because it lacks a well-developed logistics system. Things may change, given the advantages of Suning's off-line operations," said Lu Zhenwang, founder of Shanghai Wanqing Commerce Consulting.
A July report by Beijing-based market research firm Analysys International showed that China's online sales of consumer electronics in the second quarter surged 56.7 percent year-on-year to 159.2 billion yuan.
JD.com Inc, which is the second-largest online retailer, held the leadership in this segment with a market share of 47.3 percent. Tmall.com and Suning ranked second and third, respectively, with shares of 36.4 percent and 7.8 percent.
As for Suning, the cooperation will enable the company to tap into Alibaba's huge online user database, which can boost its e-commerce business and help it stave off competition from JD.com Inc, Lu told the Global Times on Monday.
Feng Lin, a Hangzhou-based independent e-commerce analyst, agreed with Lu. He told the Global Times on Monday that apart from the user database, another key outcome of the transaction will be to ensure that Suning has sufficient capital to develop its online-to-offline (O2O) strategy.
In the first half of the year, Suning swung to a net profit of 345 million yuan from a net loss of 755 million yuan in the same period of 2014.
"We all believe that the two [Alibaba and Suning] can complement one another" to jointly explore opportunities and business models in the O2O sector, Suning Vice-president Sun Weimin, was quoted as saying in the press release.
Suning, a traditional home appliances retailer, revamped its operating structure in early 2013, and it has been actively developing its O2O business.
However, analysts said that Suning has failed to make a dent in the fiercely competitive O2O sector.
The O2O segment, which analysts have estimated will generate more than 5.99 trillion yuan in transactions in 2015, is valuable turf for Internet powerhouses and traditional retailers.
The central government has also been pushing aggressively for the integration of the Web with traditional industries, an initiative generally known as Internet Plus.
In June, Internet giant Baidu Inc announced it would invest 20 billion yuan in its group-buying unit Nuomi over the next three years as it pushes further into the O2O segment.
Dalian Wanda Group Co, a leading commercial property developer and operator, has also been keeping a close eye on the development of the O2O sector. It began developing e-commerce business in partnerships with Baidu and Tencent Holdings starting last year.
Lu and Feng agreed that it is hard to tell whether Suning can stand above the crowd as it joins forces with Alibaba, because Alibaba is also Suning's competitor and it might not be willing to share all of its resources.