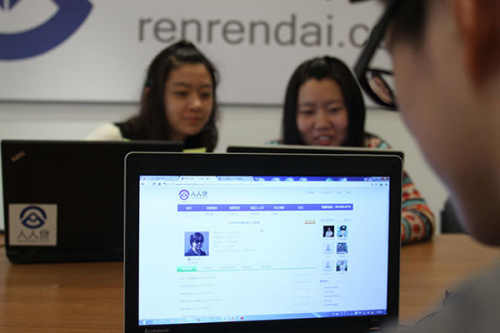 Customers make inquries at a Renrendai Co Ltd outlet in Beijing. The company, a major P2P Internet lending platform, saw transactions surge by 186 percent in the first six months of this year. (Zhu Xingxin/China Daily)
Renrendai.com, China's leading peer-to-peer lending company, had total transactions worth 9 billion yuan ($1.4 billion) by the end of the second quarter, and they could reach 15 billion by the end of this year, according to its half-year report.
Its transaction volume totaled 3.2 billion yuan during the first half of the year, a 186 percent increase year-on-year, the report showed.
"We regard transaction volume as an important goal, but we also pay close attention to risk control and product innovation," said Yang Yifu, its chairman.
P2P lending is often done without a traditional financial intermediary such as a bank.
The company's provision for potential bad debt increased to 130 million yuan during the second quarter, an increase of 47.8 million yuan, compared with the end of the fourth quarter last year.
It said the ratio of its provision for potential bad debt to principal was 2.6 percent, much higher than its bad debt ratio of 0.36 percent.
During the second quarter, Renrendai launched the P2P sector's first financial product aimed at providing income generation to investors on a fixed day every month.
"Influenced by new policies, the peer-to-peer lending sector is being reshaped, but only those with good asset quality and risk control capabilities can develop strongly," said Yang.
The China Securities Regulatory Commission announced on June 12 that it was clearing margin trades made through non-brokerage channels and umbrella trusts. Some P2P companies have been serving as brokerages in recent months.
Yang said most of the larger-scale P2P companies, including Renrendai did not participate in the business, but those who did were hit hard.
The People's Bank of China released guidelines on the Internet finance sector in July, which said that Chinese P2P lenders could only now function as intermediaries and cannot raise funds on their own.
"The guidelines show that the government is embracing and encouraging innovation, but those who do not meet the requirements will be wiped out," said Yang, adding that seeking cooperation with banks has become more of a challenge as a result for many P2P companies.
Renrendai signed a cooperation arrangement with China Minsheng Banking Corp to help protect investors' funds in July.
P2P and wealth management company CreditEase Corp also reached a similar agreement with China Guangfa Bank Co in June, and one with China CITIC Bank Corp Ltd in January.
But many others have found it hard to find a banking partner.
The number of P2P companies nationwide rose from 1,627 in January to 2,028 in June. However, the number of non-performing P2P platforms rose from 59 in May to 125 in June, partly due to the stock market volatility, underlining the risks still involved in Internet financial products.