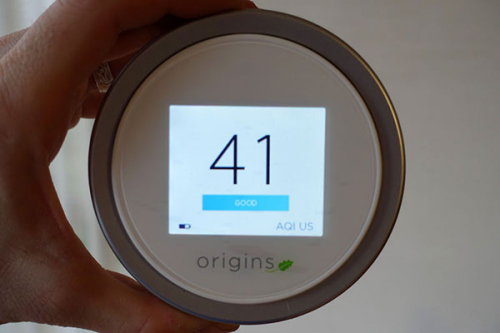 Laser egg showing air pollution levels using the US air quality index. (Photo provided to chinadaily.com.cn)
Entrepreneur Liam Bates has launched a company that he believes can produce the air quality of the Swiss Alps in your own home.
With two co-founders, the Swiss-born businessman set up Origins Technology in Beijing, which specializes in creating smart air quality devices for the Chinese market.
He came up with the idea of developing a low-cost air purifying system after his fiancee's asthma returned due to the high levels of pollution here.
Trying to find the best air purifier in China, Bates turned to Alibaba Group Holding Ltd's online marketplace Taobao.com to see what was out there.
"I probably checked nearly 100 different products and I realized that most devices were inefficient," he said. "They all shared the same characteristics, without any product standing out from the competition."
Bates decided there was a gap in the market and set up Origins Technology 2014 before rolling out the OxyBox air purifier last June at a retail price of 4,499 yuan ($725).
At that time, the air purifier market was expanding rapidly. In 2013, it registered between 80 percent and 100 percent growth compared to the previous year, according to market research company Daxue Consulting.
In 2014, there were more than 200 companies manufacturing air purifiers in China, the consulting firm Research and Markets reported. Total sales here reached 3.5 billion yuan in 2013, according to market research firm Daxue Consulting.
Bates and Origins Technology realized the importance that Chinese consumers place on foreign technology when purchasing air purifiers.
Last year, foreign brands grabbed 80 percent of the Chinese market with companies such as Philips, Panasonic and Sharp dominating the sector, Research and Markets pointed out.
For that reason, Origins Technology worked closely with Swiss businesses, such as Snowline Switzerland S.a.r.l, to develop OxyBox. Bates said his air purifier can reduce pollutants in a Beijing apartment to levels below those in the Swiss Alps.
"We used the latest technology available to make the product," he added. "The filters are Swiss-made using micro glass so they can even capture the smallest particles."
Following the success of his first product, the company decided to take another step.
Origins Technology, which is registered in China as a wholly-owned foreign enterprise, or Woofie, secured backing from the Chinese government as part of an initiative called OTEC aimed at attracting overseas talent.
With this injection of cash and using JD.com's crowdfunding platform, the company is planning to unveil its second product, the Laser Egg, a portable air quality monitor that can measure pollution levels instantly.
Most air monitoring products in China are designed for certain locations and consequently were not accurate enough. And this prompted the company to come up with the Laser Egg.
"The composition of the air is different depending on where you are," Bates explained. "So you need different types of calibration. That's why our device uses wifi to download the calibration it needs for the specific location."
Although an official launch date for the Laser Egg has yet to be announced, first shipments will start this month. The product, which will costs 379 yuan, is already available through pre-order on Origins Technology's JD.com crowdfunding page and on its website.
Additionally, the company has rolled out Breathing Space, a smartphone app that allows users to monitor the air quality around their Laser Egg remotely.
Origins Technology partnered with the app developer Fresh Ideas to make the information available through the China Air Quality Index app. This helps Laser Egg users identify pollution-free public places such as coffee shops, restaurant and malls.
"We thought it was important to create a service like this because there will be a time when people will decide to go to certain restaurants and coffee shops because the air is clean," Bates said.