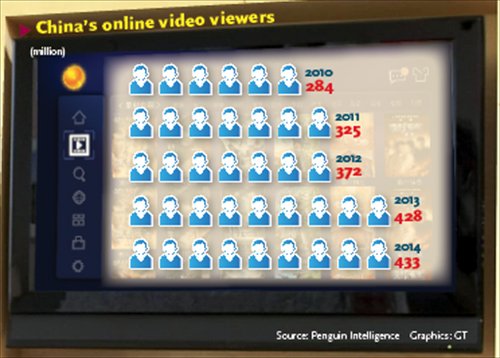 Company aims to create China's equivalent of Netflix
Chinese e-commerce giant Alibaba Group Holding is set to launch streaming video service in two months, a PR representative from the company told the Global Times on Monday, without elaborating on how the service will operate.
Alibaba is not yet ready to announce whether the service will be offered through Internet set-top box or online video platform, the staff said, noting that more details will be disclosed in a month.
Liu Chunning, president of Alibaba's digital entertainment business group, was quoted by Reuters on late Sunday that the online streaming video service will be named as TBO (Tmall Box Office), aimed at redefining home entertainment and creating the Chinese equivalent of HBO (Home Box Office Inc) and Netflix Inc.
As an affiliate of US media and entertainment group Time Warner Inc, HBO focuses on pay-television and subscription video on demand service, according to the company's website. And over 62 million subscribers of Netflix can watch more than 100 million hours of TV shows and movies per day on nearly any Internet-connected screen via a set-top box, according to Netflix's website.
Contents streamed on TBO are expected to be bought from China and other markets, and the in-house productions will also be an option, according to Liu.
Alibaba has been pushing its digital and entertainment strategy since 2014. Alibaba Investment, an investment arm of Alibaba Group, announced purchase of a 60 percent stake in ChinaVision, later renamed as Alibaba Pictures Group, for the price of HK$6.24 billion ($803.7 million) in March 2014, which was seen as a step to explore the cultural and digital entertainment sector.
In July 2014, Alibaba, which had bought 16.5 percent of Youku Tudou's shares in April 2014, announced a tie-up with U.S. entertainment company Lions Gate Entertainment Corp to gain access to the U.S. partner's TV shows and movies.
The launch of TBO is believed to be another big move in Alibaba's digital and entertainment strategy.
But analysts said that the operation of TBO, either as an online video platform or set-top box, will be challenging for the e-commerce giant.
"If Alibaba is considering developing Internet set-top box, the company's priority should be to figure out how to cooperate with a government-approved license provider," Lu Jingyu, an analyst from Beijing-based market research consultancy iResearch, told the Global Times Monday.
The State Administration of Press, Publication, Radio, Film and Television (SARFT) requires Internet TVs and set-top boxes to only have access to online content provided by seven licensed providers, which are mainly State-owned companies such as China Network Television, BesTV New Media Co and Wasu Media, according to a document released by the country's top media watchdog in October 2011.
The SARFT held talks with major online video websites in September 2014, setting a deadline within the month for them to remove their TV apps.
"Such moves hindered the opening of the Chinese Internet TV service," and affected online video platforms and set-top box developers, said Lu.
According to the Reuters report, about 90 percent of Alibaba's online contents would be paid for, either on show-by-show or monthly subscription basis.
"It is a bold move for Alibaba to charge fees for the majority of its online content, as most Chinese people enjoy free online videos, and online video providers like Baidu's iQiyi and Youku Tudou mainly make money from advertisements," Luo Lan, an analyst from Beijing-based market research firm Analysys International, told the Global Times Monday.
A survey of 17,909 Internet users in February by Penguin Intelligence, a research arm under Tencent Holdings, showed that over 75 percent of the participants frequently watched online videos. However, only 20 percent of the participants said they intend to pay for online content.