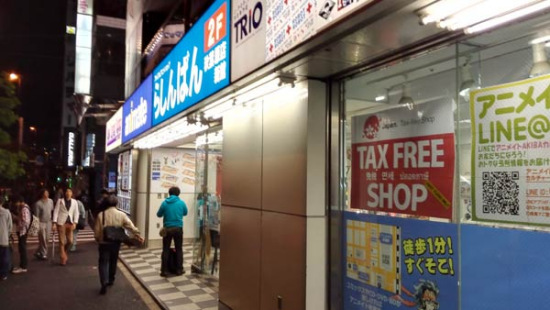 A shop selling animation-related products at downtown Tokyo's Akihabara district tries to attract foreign visitors with a sign saying "tax free shop" in languages that include English, Chinese and Korean, in April. (Zhang Yunbi/China Daily)
Despite strained relations, number of travelers from the mainland nearly doubles year-on-year
At about 10 pm at a drugstore in Tokyo's wealthy Akihabara district, two Japanese cashiers surnamed Nakayama and Mori were busy closing out their cash registers along with their Chinese colleague, a woman surnamed Xie.
Drugstores selling Japanese-made medicines and cosmetics are employing more Chinese at a time when the number of visits to Japan by Chinese travelers and shoppers has almost doubled compared with last year.
Xie was surrounded by a group of travelers from Shanghai seeking advice. They decided quickly to buy medicines to combat fever, pain and high blood pressure.
Mori told China Daily that the most sought-after medicines are those to stop colds and fevers. Shortly afterward, the Chinese shoppers bought some more medicines after consulting Xie.
One of the visiting shoppers said, "This medicine will last me for quite a long time," adding that the shoppers had just bought five Japanese-made blood pressure monitors at a nearby electronics mall.
Despite relations between China and Japan being strained by historical and territorial issues, the Japan National Tourism Organization says there were more than 1.32 million arrivals from the Chinese mainland in the first four months of this year. This is a year-on-year increase of 98.9 percent, and the Chinese mainland was the largest source of visitors.
South Korea and China's Taiwan took second and third places in the same period with more than 1.2 million and 1.1 million arrivals - year-on-year growth of 43.5 percent and 29.6 percent, according to the figures released on May 20.
In the recent cherry blossom season in Japan, foreign visitors flocked to the country. Reports said more than 90 percent of hotel rooms in downtown Tokyo were booked, and there was a shortage of visa stickers at some Japanese diplomatic missions in China.
Masanori Handa, an official at the Japan Tourism Agency under the Ministry of Land, Infrastructure, Transport and Tourism, said accommodations in Tokyo are facing challenges to a certain degree.
But "the potential is huge overall", and the Japanese government has announced an ambitious target of 20 million visits by foreigners annually by 2020.
Handa is the agency's deputy director of the Inbound Tourism Promotion Office in the International Tourism Division.
Naoki Saito, a professor of international relations at Yamanashi Prefectural University, said the growing number of travelers from China and South Korea has been expected by different localities in Japan that are suffering from sluggish growth and aging populations.