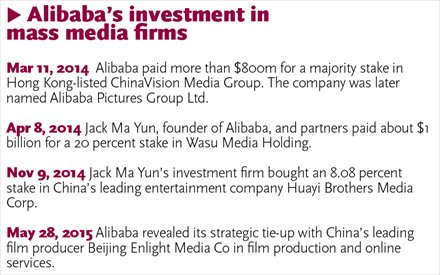 Chinese e-commerce giant Alibaba Group Holding will make an investment in China Business Network (CBN), a subsidiary under State-owned media conglomerate Shanghai Media Group (SMG), said people familiar with the matter.
More details about the deal will soon be disclosed to the public, sources, who refused to be named given the sensitivity of the issue, told the Global Times on Wednesday.
Domestic news portal cailianpress.com reported on the same day that the value of the deal is set to surpass 1 billion yuan ($161.4 million), and a strategic agreement is expected to be signed on Thursday.
Alibaba refused to comment on this by press time.
"I've learned that the two plan to cooperate on R&D of big data technology," Guo Quanzhong, senior economist with the Social and Cultural Department of the Chinese Academy of Governance, told the Global Times Wednesday.
CBN has been actively making inroads in the data services provider business with Shanghai Big Data Inc as its subsidiary offering financial data services to media outlets.
The Shanghai-based media outlet, together with Alibaba's financial spin-off Ant Financial, also inked a cooperation with Shanghai Gildata Inc, a subsidiary of Hangzhou-based Hundsun Technologies Inc, to explore opportunities in data businesses, according to a statement by Shanghai-listed Hundsun issued in November 2014.
"Besides, the Alibaba investment can facilitate CBN's integration of traditional media and new media with the advantage of its huge user bases," Guo said.
Alibaba has 289 million monthly active users on its mobile e-commerce apps in March, up 77 percent year-on-year, according to the company's latest financial report.
Alibaba has already invested in new media, video and film companies, Lu Zhenwang, founder of Shanghai Wanqing Commerce Consulting, told the Global Times Wednesday.
As such, investing in CBN, which runs a traditional daily newspaper, will be a good deal that can further complete the Alibaba ecosystem, noted Lu.
This is not the first time the e-commerce company has dipped a toe in the culture and entertainment industry, following its recent strategic tie-up with China's leading film producer Beijing Enlight Media Co in late May over film production and online services.
Alibaba's online marketplaces, which lead the Chinese e-commerce market, face challenges from scrappy rivals, said analysts.
The country's second largest online retailer JD.com Inc reported in May that its gross merchandise volume (GMV) for the first quarter grew 99 percent year-on-year to 87.8 billion yuan, while Alibaba's GMV for the same quarter rose 40 percent from a year earlier to 600 billion yuan.
New growth is expected to be generated via multi-industry strategy, but Alibaba has to devote efforts in shifting from an investor to businesses integrator and operator, said Lu.
"Apart from furthering its expansion into financial data services, the CBN deal can also help Alibaba better market its businesses and products in the future," Lu noted.
Guo agreed with Lu, saying that big companies are prone to invest in media outlets in an attempt to be able to stamp out rumors about themselves immediately and effectively.
Dalian Wanda Group has also poured investments in media publications such as financial weekly newspaper China Times and Popular Cinema magazine, according to information on Wanda's website.
Guo also noted that the investment in State-backed CBN by foreign-invested Alibaba may arouse scrutiny from local authorities, but believes that Alibaba, which mainly does business in China and was founded by the renowned Jack Ma Yun, will get the deal approved.
According to an IPO prospectus filed in September 2014, after Alibaba's IPO, Japanese Internet company SoftBank Corp was set to have 32.4 percent of Alibaba's issued and outstanding ordinary shares, Yahoo would own 16.3 percent, and Jack Ma Yun would hold 7.8 percent.