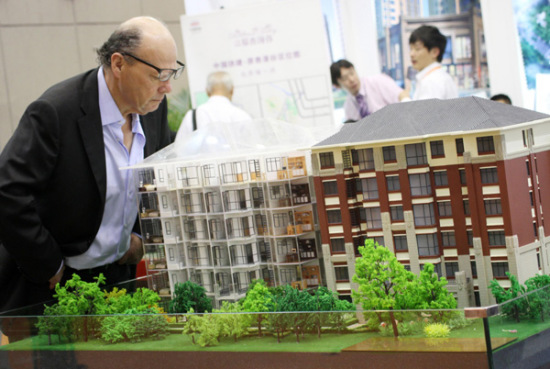 A potential foreign buyer studies a development model at an international housing exhibition in Beijing. (Photo/Chian Daily)
Complicated real estate procedures, high apartment prices and regulatory uncertainty are the main drawbacks facing potential overseas customers
Chinese buyers have been quick to move into the overseas property market. But the number of affluent foreigners buying homes here remains subdued.
Complicated real estate procedures, high property prices and regulatory uncertainty are the main drawbacks.
"For people who are planning on staying long term in China and feel confident about the real estate market here, buying an apartment may be an option," Francisco Martinez Boluda, a partner at the Spanish law firm Uria Menendez in Beijing, said.
But the ease of renting a home in Beijing is less stressful than buying a property, according to Martinez.
It is the same story in Shanghai. A research note from global real estate services provider Savills Plc showed that potential foreign buyers are unlikely to purchase property in the city because there is very little incentive. Instead, expatriates usually end up renting.
Generally, they fall into three categories. The first are expats who have a housing arrangement with their employers. The second involves expats who rent homes privately, and the third are those who live with Chinese family members, the research note revealed.
"We have seen very few foreign buyers in recent years. As an estimate, we have around one foreign customer for every 10,000 Chinese," Gong Zhongjie, a senior broker at 5i5j.com, a real estate agent in Beijing's Dongcheng district, said.
"One reason behind the low numbers has been the perception of the procedural hassle necessary to complete a transaction."
While most property agents know that foreigners have to live in China for at least a year to qualify for home ownership and are limited to one property, many are still unfamiliar with the additional paperwork.
Because of the legal hurdles they face, many expats are reluctant to buy properties here. Yet some still do such as Greg Shea, a technology consultant in Beijing from the United States.
He bought an apartment in 2005 because he needed a family home. It came at a time when foreign investment into China's rising real estate sector was encouraged.
"Back then, there were fewer regulations and the procedure was easy," he said. "All you had to have was a one-year work permit and you were free to buy a home. Later (in 2006), the government placed stricter restrictions on foreign purchases."
As the real estate market continued to surge, further regulations were introduced in 2012.
The National Development and Reform Commission, China's top economic planner, put an end to medium and long-term loans for foreign nationals buying homes in a bid to cool the market. This policy has since been changed.
Another expat, who has been living in China since 1994 and at one point owned two apartments in Beijing's Chaoyang district, is thinking of selling his remaining home because of rising prices and his plan to move to Paris, France.
"Foreigners are dissuaded from buying because of cheaper rental prices and the strong renminbi. But there is also the prospect of a national property tax that will eventually come," he said, declining to give his name and nationality.
Another sticking point for foreigners is the 70-year land lease law.
"The Property Law provides the right for residences to be extended automatically after the expiration of its 70-year term," Martinez, the lawyer, said. "But it is not clear still whether additional fees are required for such an extension." Since the real estate market has slowed in the past year, the government has started to ease restrictions. The latest move came in March when down payments for second homes and taxation on property sales were cut.
But there is still uncertainly when it comes to the expat market. "It would be advisable (for foreigners) to hold off until the new policy on real estate comes out later this year or next year," Martinez said. "Unless, of course, a property comes up at a very convenient price."