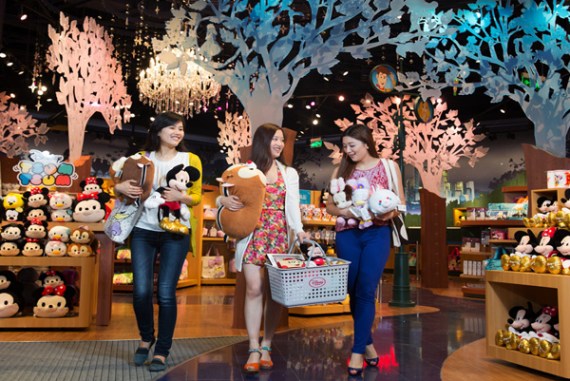 Visitors at Walt Disney Co's biggest store in Shanghai. The flagship store, which has about 2,000 items, officially opens in the city's financial center Lujiazui on Wednesday. (Photo/China Daily)
Biggest ever retail store launched to showcase resort due for spring opening
The Walt Disney Co opens its biggest ever store by size in Shanghai on Wednesday, predominantly to market the Shanghai Disney Resort, which is scheduled to open next spring.
Located in the landmark financial area Lujiazui of Pudong, it is the company's first in the mainland and will also spearhead what is expected to be a huge merchandising operation, offering more than 2,000 products, 90 percent of which will be exclusive to the site.
The area covers 860 square meters indoors, and 5,000 sq m in total.
Paul Candland, the president of The Walt Disney Co Asia, said: "The shopping experience is designed to be entertaining and to be complementary to what we do in our parks."
Walt Disney has 300 stores worldwide. The Shanghai outlet is fully owned, but the soon-to-open resort is a joint venture with local company Shanghai Shendi Group.
Though "broadly targeting consumers of all ages", Candland said the new shop is expected to be particularly appealing to young female buyers, who traditionally account for a large percentage of the company's global merchandising sales.
Readying himself for a likely heavy footfall in its opening days, Candland revealed its cash registers are designed with functions that can actually count money, meaning less queuing time.
"We have experience of dealing with big crowds and have designed our store and the outdoor plaza with that in mind," he said, adding he expects an accompanying online operation to be open soon. "But there will be no reason to hurry. We have plenty of products and inventory," he said.
Featuring a 5.8-meter-tall Disney Magic Kingdom Castle, the store will tempt shoppers with separate areas featuring Mickey and Minnie mouse, the Pixar characters, and those from Star Wars. It also has life-size, hand-sculpted statues of Iron Man, Thor and Captain America, and an 8-foot-tall (2.44 meters) Hulk from the Marvel series. A large clock tower is expected to be built soon, and there will be a show involving 13 Disney characters.
"The store will become a destination," said Candland. "It is meant to be aspirational."
Ben Cavender, an analyst at China Market Research Group, said: "Disney is very concerned about branding and about developing its image in China."
He said operating a flagship store selling merchandise is both a way to market its theme park but also of retaking control of its merchandise and control quality in the country.
Cavender said the company had been working on developing a retail presence in China for some time but ultimately it has to deal with what has become a persistent counterfeiting problem, and the perception that its product prices are high.
Only by controlling its retail experience and ensuring product quality can the company entice consumers to spend, he said.
Another issue facing Disney in China, he said, is its prices in the mainland compared to Japan.
"The company thinks the market can bear these prices, but we are still to see how sales go over a longer period of time to see if this proves the case," he said.
Candland of Disney said: "We have about 2,000 items in the store, and we want to offer these at attractive prices to our customers."