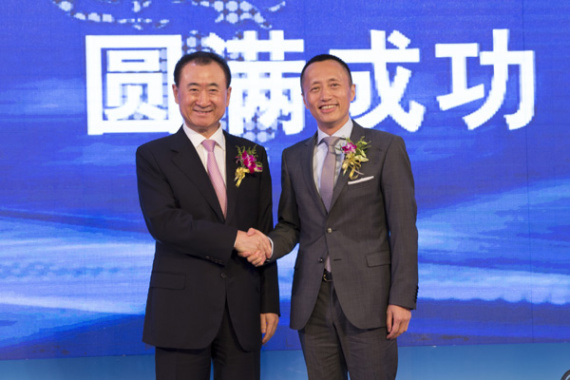 Wang Jianlin (left), chairman of Dalian Wanda Group Co, and Yu Liang, CEO of China Vanke Co Ltd, shake hands after the two real estate developers inked a strategic cooperation agreement on Thursday in Beijing. (Photo/China Daily)
Dalian Wanda and China Vanke announce strategic partnership for real estate projects
Two of China's biggest property companies announced a strategic partnership on Thursday amid growing pressure from slowing real estate sales.
Dalian Wanda Group Co, China's largest commercial property group, and China Vanke Co, the country's biggest listed real estate developer by sales, plan to jointly buy land and develop real estate projects.
Wanda and Vanke are also keen to collaborate on global projects with each company playing to its strengths, according to a statement.
"The cooperation will not involve a reshuffle of the two companies and more details will be revealed soon," said Wang Jianlin, chairman and president of Wanda.
Vanke will retain its commercial property business after the tie-up, but it will focus on community commercial property development, said Yu Liang, the company's CEO.
According to the deal, the partnership will be run by a joint team of senior executives from both companies. They will interact closely and liaise on related projects, according to Wanda's statement.
Ben Kwong Man-bun, head of research at Hong Kong-based KGI Asia Ltd, said both businesses would work well together and that the deal was a "winner". But other analysts were more cautious.
Zhang Ping, research director of Beijing-based commercial real estate consulting firm INSITE, pointed to the challenges ahead.
"The culture shock between Wanda and Vanke poses the biggest potential threat for their future cooperation," Zhang said.
Striking the right balance will be crucial if the partnership is to work. Earlier in 2015, real estate companies Greentown China Holding Ltd and Sunac China Holding Ltd called off their cooperation agreement after just one year.
As for the Vanke-Wanda tie-up, collaboration could involve global projects in the future, according to Wang. But this should be relatively easy as the Wanda business model is mainly geared for the Chinese market, so that is unlikely to generate friction in the relationship.
"The success of Wanda's business model of expanding from big cities to smaller cities is partly because it adapts to China's comparatively low urbanization rate. This means a huge potential demand for shopping malls," said Zhang. "While in overseas market, the cooperation with a local partner is usually a better choice, such as Vanke's cooperation with Tishman Speyer in the United States."
Even so, the stock prices of the two companies have reflected investors' concerns over the agreement because of a lack of details, according to Zhang.
Vanke's shares closed at 14.59 yuan ($2.35) on Thursday, down 0.75 percent from the previous day, as the Shanghai Composite Index inched 0.06 percent to 4,378.32 points. But the stock price of Hong Kong-listed Dalian Wanda Commercial Properties Co Ltd climbed 1.79 percent to HK$68.2 ($8.79), with the Heng Seng Index rising 37 points to 27,287.55.
Wanda launched two separate initial public offerings in Hong Kong and Shenzhen. In December, the group's commercial property unit made its IPO debut in Hong Kong.
In January, the group listed its cinema business, Wanda Cinema Line Co, China's biggest owner of movie screens, on the Shenzhen Stock Exchange.
In 2014, Wanda Group reported revenue of 242.48 billion yuan, up 30 percent year-on-year.
Vanke profit increased 4.2 percent last year compared to 2013 after the government eased property curbs, boosting demand from first-home buyers. But the company saw its profit drop 57.49 percent in the first quarter from the same quarter of last year as sales of new housing slowed and home prices slumped.