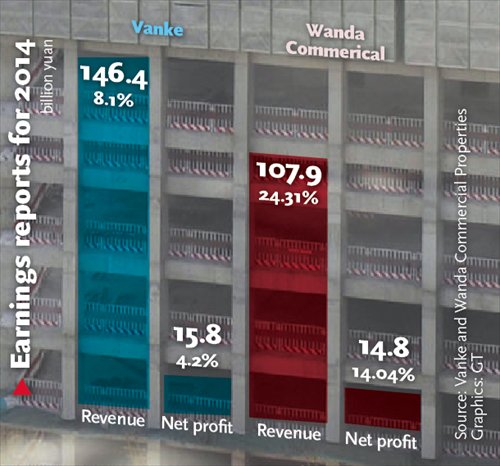 Intended to focus on land, project development; seen as challenging for smaller developers
Two of China's biggest real estate giants - Dalian Wanda Group and China Vanke Co - on Thursday announced a long-term strategic partnership in land acquisition and project development, a move that analysts said will pose challenges to small and medium-sized developers.
The two property developers will cooperate on acquiring land and project development, through which Wanda will focus on developing commercial properties and Vanke will be responsible for residential development, they announced at a press conference on Thursday, according to a press release on Wanda's website.
"There will not be any restructuring between Wanda and Vanke, and we will launch joint ventures to develop new projects," Wang Jianlin, chairman of Wanda, said at the conference.
The partnership is not confined to building Wanda Plazas surrounded by Vanke's resident properties, but deep and long-term strategic cooperation at home and abroad that might lead to massive projects including some worth more than 100 billion yuan ($16.13 billion), he said.
Vanke will still keep its commercial property business, which focuses on developing commercial projects in residential communities, according to Yu Liang, president of Vanke.
The alliance comes at a time when China's real estate industry is entering into a "silver age" from the previous "golden age," but it was not done because the two companies cannot survive but to aim for better development, Yu said.
Shares of Dalian Wanda Commercial Properties Co, a Hong Kong-listed subsidiary of Wanda Group, rose by 1.79 percent on Thursday. Shenzhen-listed Vanke saw its shares rise by more than 5 percent in morning trading, but closed down 0.75 percent on Thursday.
Pan Shiyi, chairman of real estate developer SOHO China, was not optimistic about the tie-up.
"Vanke can do what Wanda can do, and cannot do what Wanda cannot do. The cooperation between property developers is a trend, but they need to find partners with complementary advantages," he wrote on his Sina Weibo account on Thursday.
Analysts said the partnership fits with the two developers' efforts to restructure their businesses as China's once-hot real estate market has been slowing down since 2014.
Wanda is shifting to an "asset-light" strategy, which seeks outside investment to finance Wanda plazas while the company is only responsible for building and operating the plazas, with income shared between Wanda and the project investors, Wang said in Shenzhen late April.
"The alliance between Wanda and Vanke shows the challenges faced by property developers such as declining profitability amid the downturn in the real estate market," Zhang Dawei, chief analyst with the Beijing-based Centaline Property, told the Global Times Thursday.
Zhang said the cooperation is mainly aimed at lowering land costs, because competition pushes up land prices and squeezes property developers' profits.
Vanke saw its profits drop 57.49 percent year-on-year in the first quarter of this year as home sales and prices both dropped.
Wanda's advantage lies in its ability to acquire cheap land and get preferential policies, while Vanke is strong at residential property development. The partnership will help them reduce property development costs and gain more market shares, Xie Yifeng, a Guangdong-based property industry expert, wrote in a note on Thursday.
This is not good news for small and medium-sized property developers.
"It will become harder for them to compete in the real estate sector, and we will see more alliances in the industry," Zhang said.
The two giants are also likely to cooperate in non-property fields such as the Internet finance sector, Yan Yuejin, a researcher with Shanghai-based E-House China R&D Institute, told the Global Times Thursday.
Wanda bought a controlling stake in third-party payment platform 99bill.com for $315 million in December 2014. In March, it also set up an Internet finance services firm with registered capital of 400 million yuan in Shanghai's Pudong New Area.