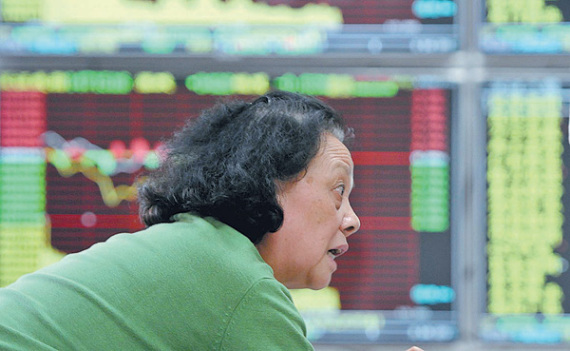 A stock investor at a brokerage in Jiujiang, Jiangxi province. She was shocked by the fluctuations in the A-share market. (Photo/China Daily)
Stock market still in fledgling state after decades of development
Despite last week's sudden decline of the Shanghai Composite Index, the recent bull run is not merely a temporary blip, and retail investors face some difficult choices, economists said.
Liu Jipeng, an economist at China University of Political Science and Law, said that small traders will need to be on their toes when investing in the market.
"In China, stock prices are usually influenced by policy or other information that is difficult for retail investors to notice, such as companies' restructuring plans. The regulatory mechanism of information disclosure remains weak," said Liu. "Without specific legislative guarantees, it is difficult to ensure that the interests of small investors are adequately protected."
One of the most important legislative plans for China this year is the revision of the Securities Law, a legislator said during the annual session of the National People's Congress in March.
According to Yin Zhongqing, deputy director of the NPC Financial and Economic Affairs Committee, the NPC's Standing Committee reviewed the draft in late April, but it didn't disclose the details. If all goes well, the final draft will be published this year.
This time, protection of retail stock investors will be written into the Securities Law.
It will add a chapter setting out the principles of retail investor protection, including the investor eligibility system, a pre-lawsuit compensation system, and a cash bonus distribution system.
The revision of the law will also improve the lawsuit system, said Yin.
The Securities Law has been revised four times since it was created in December 1998.
"Compared to previous revisions, the draft will be a comprehensive overhaul, adding more than 100 clauses, amending more than 100 clauses and deleting more than 20 clauses," said Yin.
The draft will also reform stock and registration issues, strengthen supervision, cancel administrative approval for seven items and increase punishment for violators, according to the NPC deputy.
The amendment of the Securities Law has been viewed as the legal foundation for China to push forward the registration-based system for initial public offerings, one of the most important reforms of the capital market.
Prior to the reform, the existing stock issue method lacked an accountability system, which led to blind speculation for new shares, especially among retail investors, said Su Peike, a researcher with the Public Policy Research Institute at the University of International Business and Economics in Beijing.
Su said that the country's top securities watchdog, the China Securities Regulatory Commission, should scrap the system under which it is required to grant administrative approval for new offerings, but instead supervise whether listed companies disclose information in a timely and accurate manner.