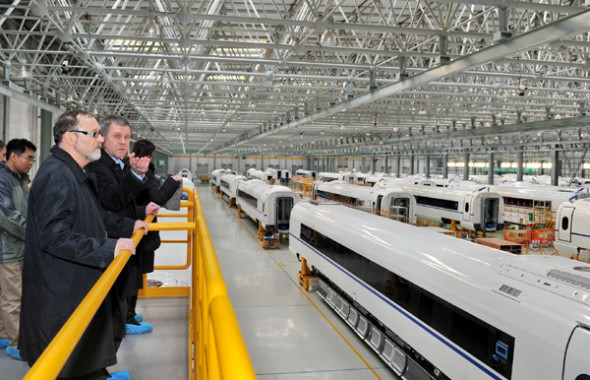 Visitors from Russia, Brazil and Iran at Changchun Railway Vehicles Co Ltd, a unit of CNR Corp. A consortium of two Russian companies and China Railway Eryuan Engineering Group Co Ltd has won the contract for engineering research, development, project planning and design documentation of the Moscow-Kazan high-speed railway. (Photo/Xinhua)
Chinese company, partners to work on Moscow-Kazan high-speed railway
China's rolling stock makers are anticipating more exports of high-speed train technologies to Russia, after a consortium of a Chinese railway engineering survey and design company and two Russian firms won the bid for a high-speed rail project linking Moscow to Kazan in Russia.
The Russian Railways signed a 20 billion rouble ($390 million) agreement with the consortium of two Russian companies and China Railway Eryuan Engineering Group Co Ltd for engineering research, development, project planning, land survey and design documentation for the construction of the high-speed rail line, according to Russia's Tass news agency.
"The contract win will spur other Chinese firms to participate in similar projects, including those for infrastructure creation and supply of high-speed trains," said an unnamed official from CNR Corp, a Chinese trainmaker.
"The Moscow-Kazan project could be a milestone for China's high-speed train exports," the official said. After the high-speed rail project in Mexico was put on hold, Chinese trainmakers have been seeking alternative global markets for high-speed train exports.
Although CNR Corp and CSR Corp have exported rolling stock to many countries, China is yet to export high-speed trains with operating speeds in excess of 250 kilometers per hour.
The high-speed model operating on the Harbin-Dalian railway since late 2012 could adapt well to the Moscow-Kazan railway once it is built, as it operates well under ambient temperatures of up to minus 40 C at a speed of more than 300 km per hour, he said.
Yu Weiping, vice-president of CNR Corp, in February said that the China-Russia project would be a major focus for the trainmaker this year and the company has provided an initial technical roadmap and plan for local production to its partners.
CREEC, the Chengdu-based unit of China Railway Group Ltd, got a qualification certificate to conduct engineering survey and design in Russia in late March. Work under the contract will be completed by the end of 2016.
The Russian-Chinese consortium is "the most promising professional community that integrates decades of good practice and successful experience in the implementation of high-speed rail construction projects and other major Russian infrastructure projects", the Russian Railways said in a statement.
China and Russia have established a working group to promote the project, said China Railway Corp spokesman Han Jiangping.
In October, the Russian Transport Ministry, Russian Railways, the National Development and Reform Commission and China Railway Corp signed a memorandum on the development of high-speed railway communication.
The length of the Moscow-Kazan high-speed railway is expected to be around 770 kilometers and it will run through seven Russian regions with total population of more than 25 million.
The total investment in the project is estimated to be more than 1 trillion roubles, with some experts indicating that the project could also be a part of the new Silk Road.
The rail link connecting Moscow and Kazan, the capital of Tatarstan, a Russian republic, could go through Kazakhstan and be extended to China, Russia's Ambassador to China Andrey Denisov said in February, according to the Russian News Agency.