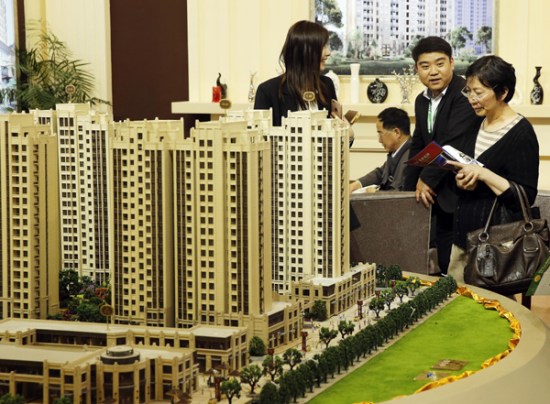 Visitors at a housing expo in Shanghai on Sunday. Some new housing projects in Beijing, Shanghai and Guangzhou reportedly sold out within 24 hours of going on sale during the May Day holiday. (Photo/China Daily)
New housing projects in first-tier cities enjoyed robust sales over the Labor Day holiday, extending a brisk April for the sector as previous government stimulus policies continued to filter through to the market.
A total of 201 new homes were sold and registered on the Beijing housing authority's website during the two days, compared with 169 a year ago. In Shenzhen, 195 units were sold and registered with its authority compared with just 49 a year earlier.
Taking the time lag between purchasing decisions and deals being concluded and officially registered into account, the surge reflected April's boom.
A more up-to-date number came from Centaline Property Agency, which said that in Guangzhou, 20 new projects opened for sale during the holiday, a 10 percent rise on last year, with 354 units sold on Friday and Saturday, a 30 percent rise on a year ago.
The hot sales streak continued the momentum started by stimulus measures announced at the end of March, which included a down payment ratio as low as 30 percent for second-home purchases.
According to the China Index Academy, SouFun Holdings Ltd's housing research unit, home sales in 28 cities it monitored during April increased 8.96 percent from March. Eighteen of those cities posted month-on-month gains, while sales fell in 10 cities.
First-tier cities posted a 31 percent surge in sales, second-tier cities rose 5 percent, while third-tier cities dropped 7 percent.
The findings chimed with Centaline's statistics, which also showed 17,191 second-hand homes were sold and registered in Beijing during April, the highest monthly figure in two years, it said.
Some new projects in Beijing, Shanghai, Guangzhou and Shenzhen reportedly sold out within 24 hours of going on sale-a phenomenon not seen since the previous housing boom. China Vanke Co said one of its projects in Beijing's northwestern suburb was sold out on Friday. Two other projects in the southeast of the city being offered by other developers did the same.
Average new home prices during April, meanwhile, in 100 cities monitored by the China Index Academy dipped just 0.01 percent over March, compared with a 0.15 percent contraction from February to March. Second-hand home prices rose 3.29 percent in Shenzhen, 1.25 percent in Shanghai, and 0.79 percent in Beijing, it said.
Ye Jing, a 32-year-old office worker in Beijing, told China Daily she completed the purchase of her first home in the capital on Friday. The 58-square-meter pre-owned apartment cost her nearly 40,000 yuan ($6,440) per sq m. She had found the apartment back in February, putting down a deposit back then to secure it.
"The brokers told me similar apartments in the same district sold recently for at least 100,000 yuan more than mine," she said.
Yang Hongxu, vice-president of the E-House China R&D Institute, said that with interest rates expected to be cut again and more buyers coming forward than before, the current upswings in sales and prices in first-tier cities are likely to accelerate.
Li Xu, another 31-year-old office worker from the capital, does not think so.
She recently visited a number of second-hand properties accompanied by agents, but said she had now decided to continue living in rented accommodation because her would-be monthly mortgage payments exceed her current rent.
"I'm not optimistic about home prices in the long run," she said.
"The homes available near my workplace in downtown Beijing are dilapidated, while any new ones I might have been able to afford are too far away."