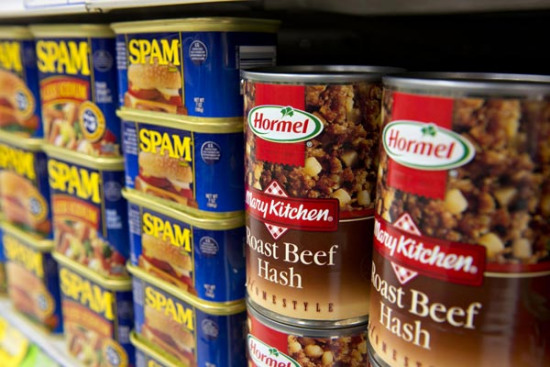 Hormel Foods Corp. Roast Beef Hash and Spam brand lunchmeat sit on display in a supermarket in Princeton, Illinois, US, on Thursday, Jan 3, 2013. (Provided to China Daily)
U.S.-based firm eyes sustainable expansion as it starts work on $110 million facility in Jiaxing
Buoyed by the strong, sustained demand for its meat products in China, the United States-based Hormel Foods Corp is looking to further expand investment in the nation, company officials said on Thursday.
The Austin, Minnesota-based Hormel formally broke ground for its largest individual facility in China in the Jiaxing Economic and Technological Zone of Zhejiang province on Thursday. Set up with registered capital of $110 million, the facility is expected to make annual revenues of 6 billion yuan ($967 million) from 2016 onward.
Hormel is also looking to gradually scale up the production capacity at the plant. It plans to have an annual meat processing capacity of 30,000 metric tons initially and then scale it up to 50,000 tons. Company officials said the unit will be used to make Hormel bacon, ham and sausages, which are already popular with Chinese consumers. The Jiaxing facility will also be the home for Hormel's Spam products, which are mainly products made from specially processed and assorted meat.
Hormel will also set up its regional headquarters for China in Jiaxing at an opportune time, the officials said. it will also be the first regional headquarters to be set up in the Jiaxing Economic and Technological Zone.
"We selected Jiaxing due to its accessible location and great transportation links to key cities in the Yangtze River Delta and to all of eastern China. In addition, there is a strong, local talent pool for us to choose from when we begin operations. Moreover, we also benefit from the smooth cooperation with the local government," said Swen Neufeldt, general manager of Hormel China.
James P. Snee, group vice-president of Hormel Foods Corporation, said that the company's international business has grown rapidly in the last five years, with China exhibiting strong double-digit growth over that time period. The Jiaxing plant will be the new pillar that will support Hormel Foods' continued growth in China, he said.
Hormel Foods entered the Chinese market in 1994 and started formal operations in 1997. Currently it has two investment companies in Beijing and Shanghai. It achieved global sales revenue of $9.3 billion in fiscal 2014 and raised its annual dividend by 25 percent to $1 per share for fiscal 2015, marking the 49th consecutive year the company has increased its dividend.
Apart from Hormel Food, Jiaxing Economic and Technological Zone is also home to a number of other global firms such as food processing company Mars Inc and healthcare product provider Abbott Laboratories, with the annual output reaching 20 billion yuan.
China, a major pork consumer, will see its compound annual growth rate of pork consumption remain at around 1.3 percent in the next decade, according to data provided by the Ministry of Agriculture. Average pork consumption per capita will grow from 20.19 kilograms in 2015 to 22 kg in 2024. Total pork consumption is expected to reach 65.1 million tons by 2024 in China.