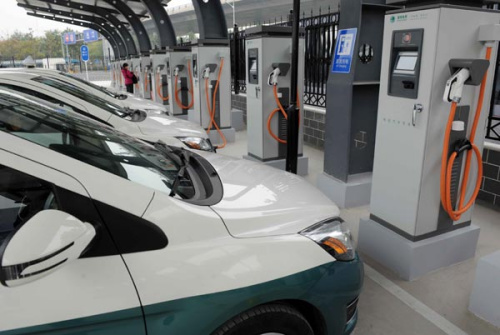 Charging posts at Beijing Capital Airport. The city is in need of sufficient charing facilities. (Photo/China Daily)
More incentives offered to get drivers to go electric
Local governments are taking action to respond to the central government's appeal to popularize new energy vehicles across the nation.
Earlier this month, Beijing authorities announced that pure electric vehicles would not be affected by the new round of rotating car number plate bans from April 11, 2015, to April 10, next year. The bans restrict cars with certain numbers plates from being on the road between 7am and 8pm from Monday to Friday within the capital's fifth ring road.
Beijing authorities said the move aims to "effectively reduce vehicles' pollutant emissions and continuously improve the capital's air quality".
To ease traffic and reduce pollution, many big cities in China imposed restrictions on vehicles in recent years.
The central government also introduced several policies to encourage people to use electric cars.
Green energy and environmental topics were widely discussed during last month's two sessions, the country's annual meeting of top legislature and political advisors.
The development of the new energy vehicle industry was one such topic. During the annual session of the National People's Congress, China's top legislature, Premier Li Keqiang, promised to fight harder to curb China's pollution by introducing cleaner energy and clamping down on illegal emissions.
The country is also gradually raising its emissions standards.
In 2012, the State Council, China's cabinet, set an ambitious goal of getting 500,000 new energy cars on the road by the end of 2015 and 5 million new energy vehicles on the road by 2020.
In February, the Ministry of Science and Technology issued a draft of the government's plan to support research and development of new energy vehicles to gain public opinion.
In March, the State Council unveiled its "Made in China 2025" program, which plans to upgrade the country's manufacturing power in the next 10 years.
According to the program, the government will transform the nation into a more competitive global player by offering special funding and tax incentives to 10 industrial sectors including the new energy vehicle industry.
Local governments have introduced several policies to support the development of the new energy vehicle market.
For example, Beijing plans to build up a charging network for new energy cars in the city and plans to install charging posts within a five-kilometer radius inside the sixth ring road by the end of this year.
Beijing authorities also announced that the city would be friendlier to new energy car owners, by allowing them to pay less in parking fees and highway tolls in the near future.
Electric cars have several advantages such as zero emissions, low noise, low running cost, easy maintenance and high subsidies from the government.