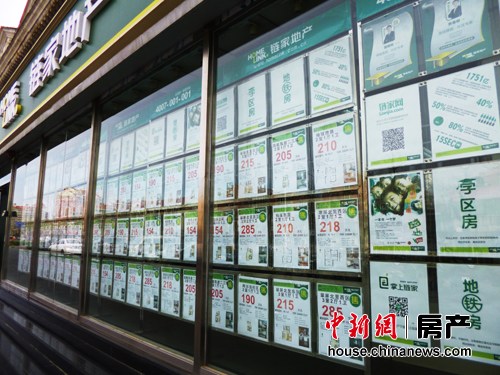 Second-hand homes in Beijing start to see price rise. (Photo/China News Service)
China's real estate sector has been flagging over the last year, but the central government has recently released a series of policies to support the industry. As the real estate market is a key part of the overall economy, analysts believe further easing policies are likely.
Beijing-based realtor surnamed Zhang has noticed an increase in phone calls from potential clients over the past week, with most of them asking about current prices and how they're likely to go in the future.
The real estate sector has seen a significant dip in fortunes over the last year, but the central government has recently announced a series of support measures for it. For realtors like Zhang, the measures have been a much-needed shot in the arm.
"The new measures indicate that the government still supports housing consumption and I think now is the right time for people to buy," Zhang, who works at real estate agency Homelink, told the Global Times on Wednesday.
The market has already shown some signs of warming up, and some developers and property owners are planning to raise prices. Fujian-based developer Rongxin Group said on March 30 that it would cease all discounts in projects in East China starting from Wednesday and that prices would be raised by around 10 percent, industry portal house.sina.com.cn reported on March 31.
Help needed
China's housing sector has been cooling since the beginning of 2014. The average price of new homes in 100 major cities in China fell again in March, marking the 10th consecutive monthly drop, according to data released by China Index Academy on Wednesday.
In March, the average price of new homes in the 100 cities was 10,523 yuan ($1,683) per square meter, down 0.15 percent from the previous month and by 4.35 percent year-on-year, the data showed. Among the 100 cities, 87 of them reported a year-on-year drop in prices in March.
However, the central government has been working on ways to curb the downward trend. Premier Li Keqiang said in the government work report on March 5 that housing consumption should be stabilized and several major support policies for the property sector have subsequently been announced.
On March 27, the Ministry of Land and Resources released a guideline intended to optimize land supply. The guideline made clear that land supply should be guaranteed in cities where housing demand is strong, but in cities where demand is weak, the land supply should be reduced accordingly.
On March 30, the central bank, together with the housing and banking authorities, announced a relaxation of loan requirements. For home buyers with an outstanding mortgage who are applying for a mortgage for a second home, the minimum down payment will be cut to 40 percent from the previous level of 60 to 70 percent.
The minimum down payment for first-time home buyers using public housing funds will be cut to 20 percent, compared with the current level of 30 percent, the central bank said.
Also on March 30, the Ministry of Finance announced that homes bought at least two years ago would be exempt from capital gains tax. Previously, only homes bought at least five years ago were exempt.
"The central bank policies are expected to have a bigger impact in first- and second-tier cities than in smaller cities," Liu Yuan, a research manager at Centaline China Real Estate in Shanghai, told the Global Times on Wednesday.